御来場ありがとうございました!!Thank you so much to everyone who came!!!!
Mistress MAYA would like to thank all the artist who performed and the staff who supported her.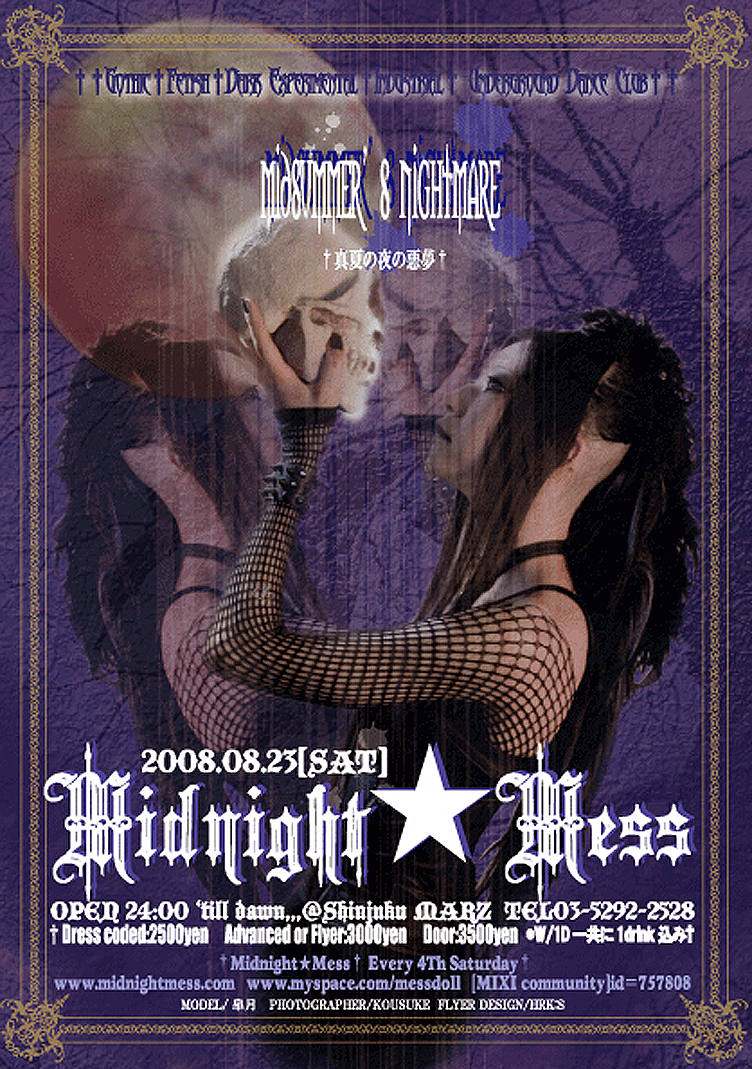 ▶ MODEL: 皐月SATSUKI ▶ PHOTOGRAPHER: Kousuke ▶ Flyer Design: HRK:S


【 CAST 】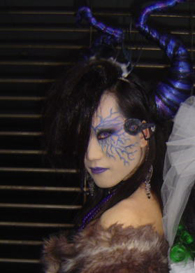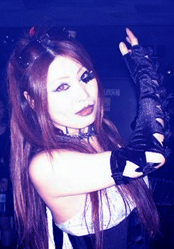 【 DANCE PERFORMANCE 】

(lulu&keiko)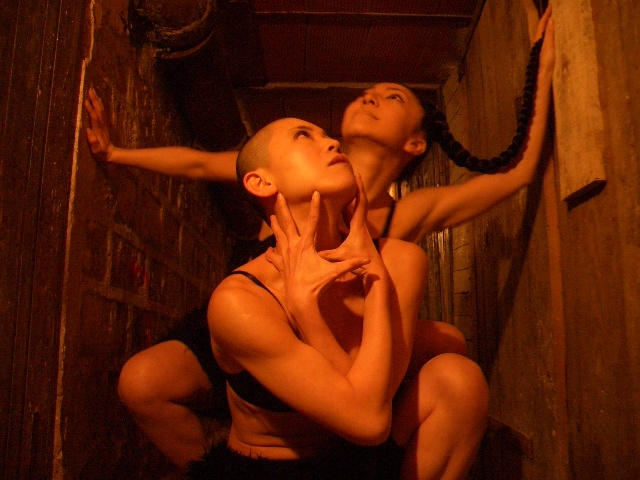 国内外で活動する前衛舞踊デュオ。
"DANSER"(FRANCE)、"Ballet Tanz"(GERMANY)BEST STAGE 34のトップに挙げられる。
フェティッシュパフォーマー・モデルとしても活動。
"SKINTWO RUBBER BALL"(LONDON,UK)や"GERMAN FETISH BALL"(BERLIN,GERMANY)等に出演。
衣裳はドイツのラバーブランド"BODYCULT"(GERMANY)が全面協力。
▶86B210 on MYSPACE

▶86B210 on YOUTUBE - 86B210 ★ Fading Away by TELEMAKFILMS


▶86B210 @Midnight★Mess 2008.08.23 by TELEMAKFILMS






【 LIVE 】 -Crushing Drum Noise Bass-


CONTROL FREAK with belly dancers Maki & Natsu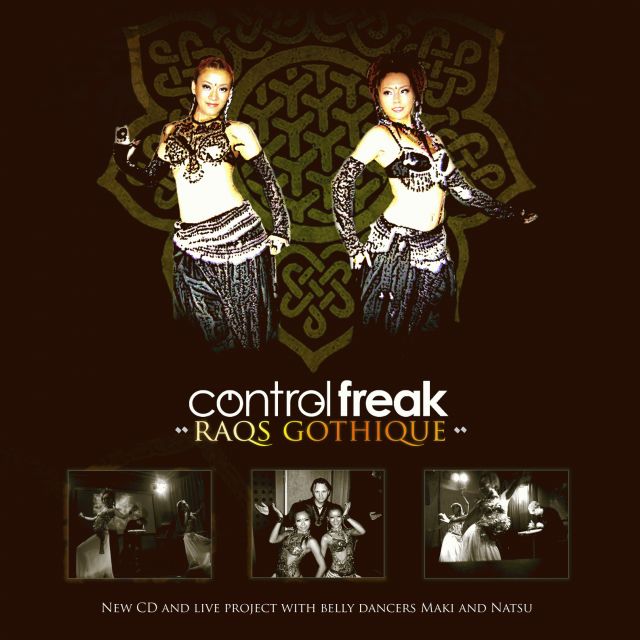 Electronica / Drum & Bass / Breakbeats / Breakcore / Tribal

▶MYSPACE


LONDON出身のmatt reddingによるソロプロジェクトCONTROL FREAKに
妖艶なBELLY DANCER MAKI & NATSUが2007年に加入。
よりトライバルでダンサブルなtuneが加わりライヴパフォーマンスも
DEEPな世界を展開。哀し気だったり激しかったりカオスだったり...
CONTROL FREAK ia a solo project by matt redding from LONDON.UK.
Belly dancers,MAKI & NATSU joined in 2007.
more tribal and danceble tune was added and a live performance is deeper than before.


▶Freestyle Drum Noise Bass. Function:Girl performed at Midnight Mess, Shinjuku Marz. Visuals by Visual Works Fraw




▶LIVE VIDEO REPORT 2008.08.23 at Midnight★Mess

by TELEMAKFILMS






■Fetish Performance■ Midnight Mistress


Rope Suspension by Mistress MAYA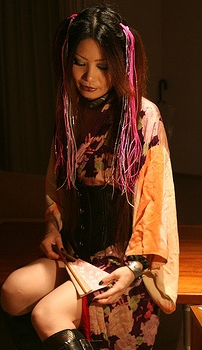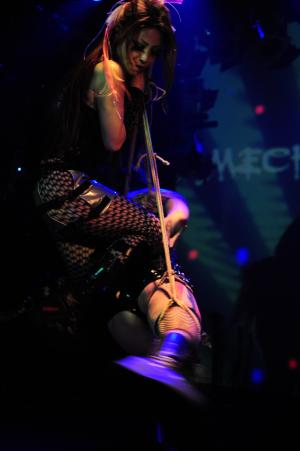 ▶Photo by Kousuke
毎回ハプニング的に始まる妖しくハード♥にロリータを責めるMISTRESS MAYAの公開調教?!
縛りやらぽろりやら、、エロく激しいPERFORMANCEを展開☆






- ResidentZ -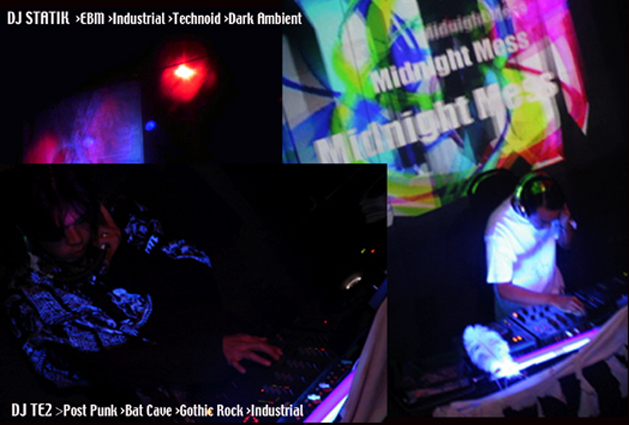 ◆Organize & DJ◆ Mistress MAYA >>Dark Electro >Industrial Rock >Technoid >Breakcore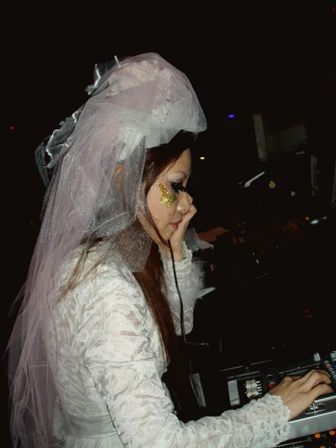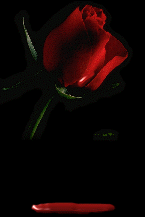 Just bring your body. your mind will follow,,,
*Photo by DJ SiSeN *衣裳協力 by

(Daikan-Yama,Tokyo) & GRAVE DIGGER(Harajuku,Tokyo)


◆DOOR/FLOOR◆ †mess★dolls†

皐月SATSUKI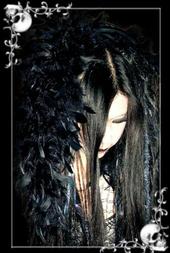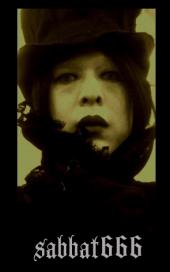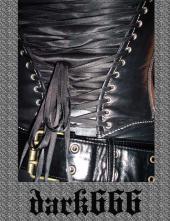 and more,,,



■BOOTH■

【 FETISH/GOTHIC Shop 】


(Harajuku,Tokyo)


*Import & Original PUNK,GOTHIC,FETISH,LOLITA clothing,Corset,Accesary
A.K.I.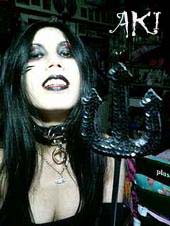 孤人創作屋「るなぱあく(Luna Park)」*コサージュ、オリジナルアクセサリー
まりMari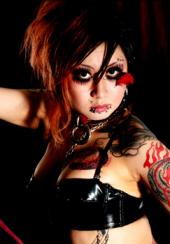 photo by






†夜ノ帳† TOBARI


*Gothic Taste Accesary ▶Design by HRK:S





【 PHOTO Booth 】
■撮影■ PHOTO by 


御来場の皆様の中でご希望の方を写真家Kousukeが無料にて撮影致します♪
次回MMess御来場時にプリントした写真をお渡しします
Professional photo will be taken by Rock PHOTOGRAPHER Kousuke for no charge!!
Photo will be printed and given as gift at next MMess.





[ Playlist ] DJ STATIK

Predominance - "If the last star burns out"
Control - "Just To Kill"
Subliminal - "Komm"
Rugitus Aeternam - "Reaktor 4"
Mourmansk 150 - "Insert clip/Pull slide/Pull trigger"
Synth-etik - "Lek"
Greyhound - "Identity Disturbance"
The Peoples Republic Of Europe - "The Blasphemy Challenge"
Hocico - "Fed Up"
Distatix - "Disappear"
--------------------------------------------------------
Pain Station - "Domination v.3"
Last Days of S.E.X. - "Revenge Of The Collective S.E.X."
Unter Null - "Amped"
Organic Cage - "Kill Your TV"
Suicide Commando - "Save Me (Full Version)"
Modulate - "Bass Alert"
Centhron - "Leichenreiter"
La Magra - "Phoenix (Remixed By Die Braut)"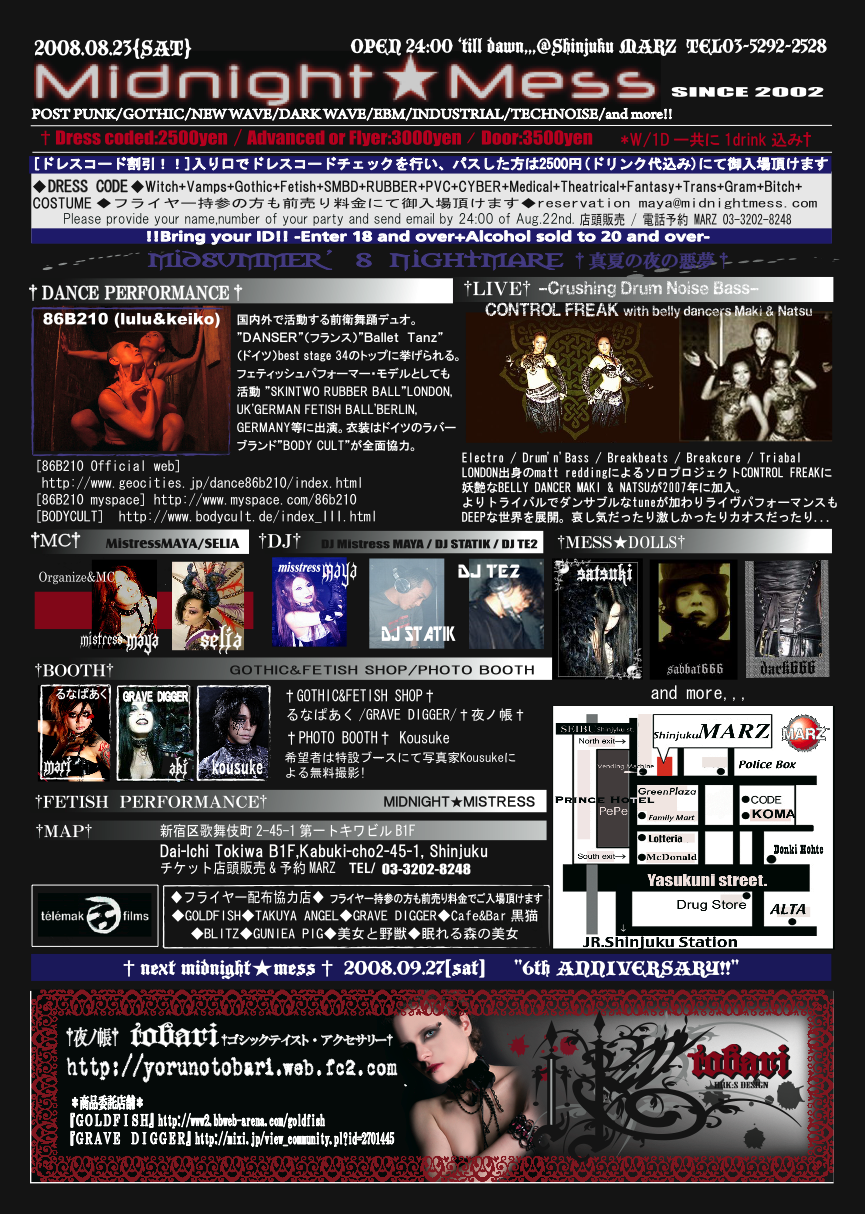 ▶SUPPORTED by 

  ▶SPECIAL THANKS to

EIJI MATSUDA(message)



▶THANKS to  ■撮影■ PHOTO 



MySpaceTV Videos: Midnight Mess by SiSeN
Midnight Mess

all photo by Kousuke