2016.10.30
◆10/30(Sun)14th Anniversary & Halloween SP
<

◀ SINCE 2002 ▶>


THANK YOU FOR COMING!! 御来場ありがとうございました★



2012年より不定期開催を続けてまいりましたが、おかげ様で14周年を迎えさせて頂きます。
We are celebrating 14TH ANNIVERSARY this year! We'd like to thank everyone
who has supported us and made it possible to celebrate.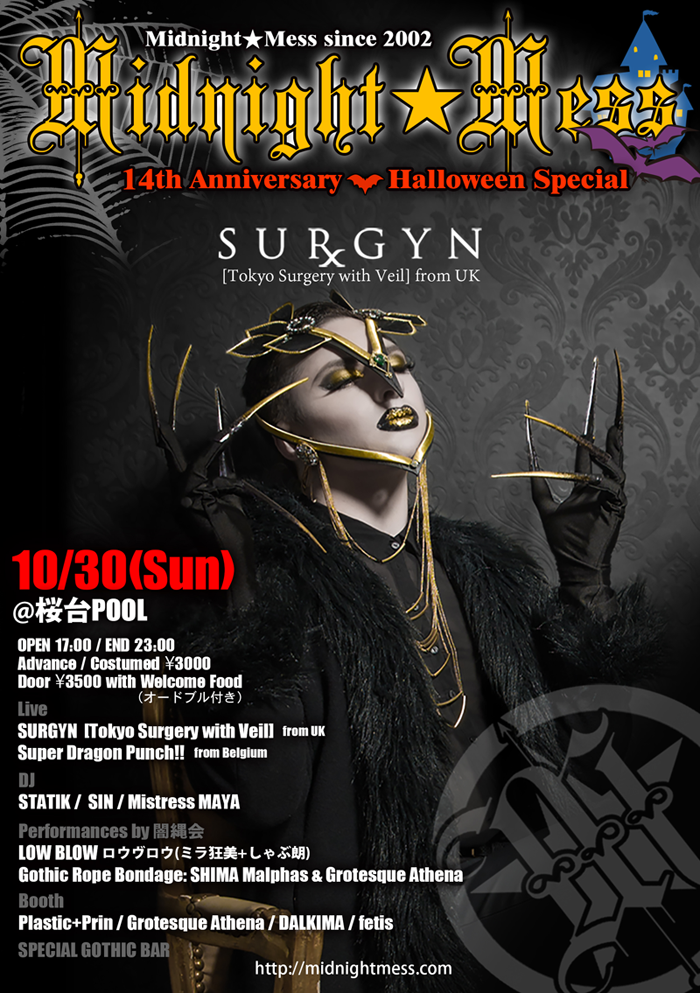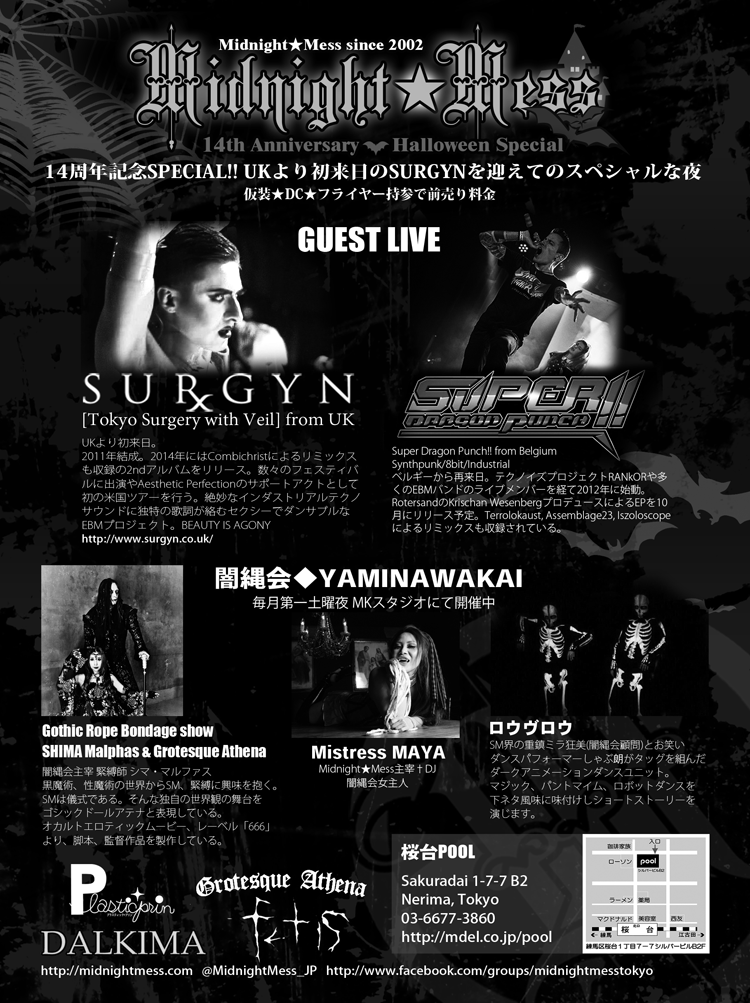 ▼Graphic by Seiichirou Uchida aka DJ U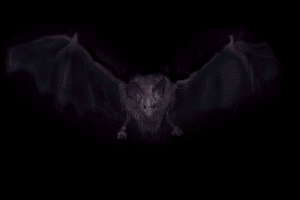 ▼ENTRANCE FEE
Dress Code | Costumed | Advanced|w/Flyer ¥3000 +1D
ドレスコード|仮装|前売り|フライヤー持参で¥3000 +1D
Door当日 ¥3500 +1D

▶御予約フォーム

http://form1.fc2.com/form/?id=702309


FB頁にて参加表明、もしくは10月29日の24:00迄にご送信下さい。
▶TO RESEVE YOUR TICKET

http://form1.fc2.com/form/?id=443456


*Please fill out the form and send before 24:00 of October 29th.
or GET ON ATTENDING LIST ▶FACEBOOK EVENT



GUEST LIVE

SURGYN [Tokyo Surgery with Veil] from UK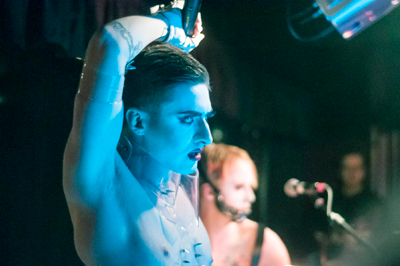 ▶Photo by Michael James



SURGYN are an alternative electronic music project from Scotland. Their début album Vanity was released in 2011 and received widespread critical acclaim, along with two accompanying singles, Hit the Nerve and Sharp as Stars. Vanity went on to sell out in five different editions, two through the duo's first label, DWA.
In early 2013, Vanity was re-released through Vendetta Records in North America. As well as this, a flexidisc edition of the ∆Aimon remix of The Stranger was released through DWA, with an accompanying full-length remix album of Vanity, called Restitched.
Their second album, ENVY, was released in the summer of 2014 in a variety of formats, along with two accompanying singles, Feed Me Fame and Limousine, including remixes by Combichrist among many others. The release of ENVY was paired with the duo's first American tour supporting scene juggernauts Aesthetic Perfection.
Surgyn are set to reconstruct the face of electronic music.



BEAUTY IS AGONY





▶Official Web-site




▶Official Facebook














SPD!!









FETISH PERFORMANCES by YAMINAWAKAI
DARK ANIMATION DANCE PROJECT▼LOW BLOW ロウヴロウ
ミラ狂美 MIRA KURUMI & しゃぶ郎 SHABUROU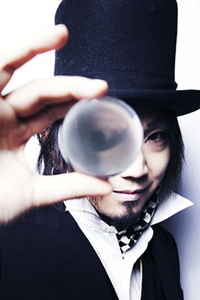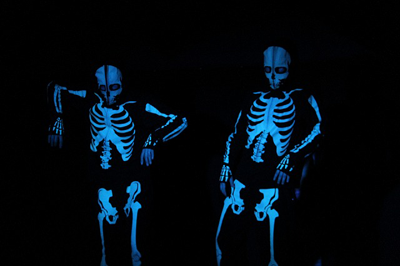 SM界の重鎮ミラ狂美と、お笑いダンスパフォーマーしゃぶ郎がタッグを組んだダークアニメーションダンスユニット。
マジック、パントマイム、ロボットダンスを下ネタ風味に味付けしショートストーリーを演じるニュースタイルエンタ
ーテイメント。M嬢をいたぶったり、ハロウィン仕立て(?)でお贈り致します。


ミラ狂美 MIRA KURUMI ▼ 闇縄会顧問
Mistress MAYAの師でありSM界の貴公子とも呼ばれる緊縛師、プロマジシャン、パフォーマー。
闇縄会の会場であるMK STUDIO支配人。
BONDAGE MASTER and FETISH/ILLUSION PERFORMER

1996年都内クラブにてSMショーを始める。
以降、イベント、ショーパブ、ストリップ劇場等全国各地でスタイリッシュな緊縛ショーやマジックを取り入れた'てじなわ'ショーを展開
また、アダルトビデオ界に置いて、口を縫う、バーベキュー串を刺す、釘を胸に打ち付ける等のハードプレイで苦痛系なるジャンルを確立
他にもロックバンドや、アニメーションダンスユニットなど活動は多岐に渡る。

▶Official web-site ▶INTERVIEW



Gothic Rope Bondage Show by SHIMA Malphas & Grotesque Athena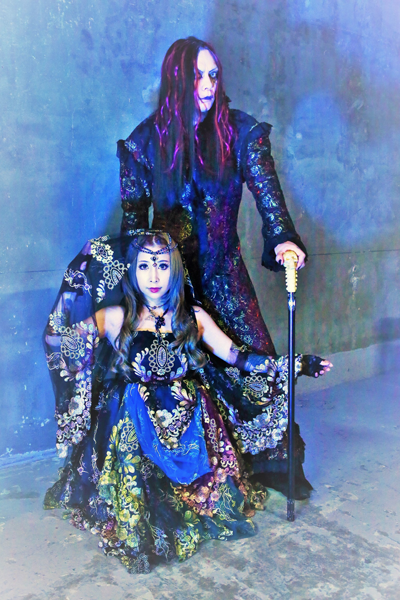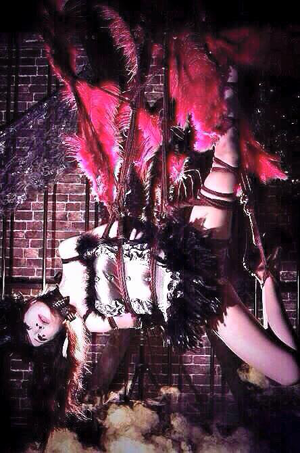 性魔術緊縛師†SHIMA Malphasと妖艶なゴシックドールATHENAによるゴシックSMショー

◆性魔術緊縛師†SHIMA Malphas(闇縄会主宰)
ゴシックの退廃美とSM&緊縛の耽美エロスな世界観を舞台で表現している。


http://shimamalphas.info/


◆Grotesque Athena グロテスクアテナ
SHIMA Malphasのゴシック緊縛パートナー
舞台ダンス&パフォーマー
振り付け師
アクセサリー、ヘッドドレスのデザイン製作販売


http://dokuroathena666.com/








◼︎DJ STATIK (Midnight★Mess/[OVERFUSED?])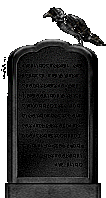 *RHYTHMIC NOIZE + HARSH + AGGROTECH + EBM + POWER ELECTRONICS + POWER NOIZE + INDUSTRIAL + DARK ELECTRO + DARK AMBIENT

STATIK has DJed as DJ Kedamono at the most famous Industrial club DAS BUNKER(US) before he moved to Japan.
STATIK started DJing at Industrial club and became a pioneer in Japan, spreading the new sound so called Rhythmic Noise/Power Industrial coming from Germany and US.
He bludgeons audiences over the head with aggressive yet danceable tunes by manipulating Aggrotech and Rhythmic Noise.

Midnight★Mess/[OVERFUSED?]のレジデントDJ。US Industrial clubのパイオニアであり伝説的存在のDAS BUNKER(ダス・ブンカー)においてDJ Kedamonoとして活動後来日。 都内のインダストリアルクラブのレジデントを務め、国内でテクノイズを広めパイオニアに。テクノイズやアグロテック等をダークに操り、アグレッシブかつダンサブルチューンでフロアを沸かす。

2010年にはMidnight★Mess/[OVERFUSED?]主宰のDJ Mistress MAYAと共にドイツの世界最大規模ノイズインダストリアルフェスティバルMASCHINENFESTと、世界NO.1インダストリアルクラブCLUB MATRIXのEODに日本人初のゲスト出演を果たす。

海外のインダストリアルアーティストとの交流も深く、CONVERTER、Iszoloscope、mimetic、MONO NO AWARE等人気テクノイズアーティストの初来日を手掛けたORDINATEUR主催「SEQUENCE OR DIE」のレジデントでもあった。








■DJ Mistress MAYA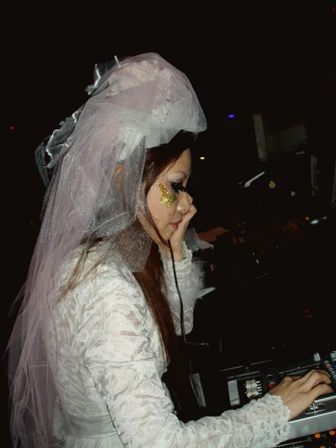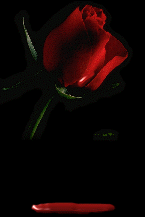 Just bring your body. your mind will follow..
Midnight★Mess/[OVERFUSED?]/Mechanical Slaves主宰
*German Industrial / Industrial / Harsh / Rhythmic Noise / Power Noise / Power Electronics / EBM / Electro

INDUSTRIAL/EBM/GOTHICクラブ Midnight★Mess主宰
東京屈指のゴシックインダストリアルイベントを主宰。またDJとして海外のテクノイズフェス「MASCHINEFEST」(独)やゴシックフェスWGT(独)、世界最大ゴシックインダストリアルクラブ「CLUB MATRIX」(独)への出演など、活動の場は日本だけにとどまらない。今までMetropolis Records、ANT-ZENやHANDS所属の数々の海外アーティストの来日公演を実現させてきている。
インダストリアルのパイオニアSKINNY PUPPYの創立メンバーでありDownloadのcEvin Key、シンセポップ・EBM界の大御所COVENANT(Sweden)やダークエレクトロのパイオニアDAS ICH(独)の初来日も手がけている。
DEPECHE MODEオフィシャルリリースパーティーに出演等プレイジャンルの幅も広く、
Gothic DJとしては都内にてTim Burton監督プライベートパーティーにてDJ。
キーワードは激しく哀しくダーク、そして妖しくフロアを操る。
妖しく美しいDJスタイルは必見。

▶これまでに初来日を手掛けたアーティスト
cEvin Key of SKINNY PUPPY/Download (METROPOLIS RECORDS), BASECK(SubCon),
COVENANT(METROPOLIS RECORDS), DAS ICH(DANSE MACABRE),
WINTERKÄLTE(HANDS), ISZOLOSCOPE(ANT-ZEN), MIMETIC, AUTOGEN(STURM), MARSUPIUM MASSACRE, ALARMEN(AUDIOPHOB), C-drík aka Kirdec, FLINT GLASS, SPANKING MACHINE, BELLA LUNE, PAUL MERCER.
from JP:DER EISENROST, 4-D mode1, DER ZIBET, 森岡賢KEN.MORIOKA(SOFT BALLET), GOTHIKA(DANSE MACABRE), CONTAGIOUS ORGASM(ANT-ZEN)

The longest running monthly Gothic/Industrial dance club in Tokyo since 2002 - Produced by DJ Mistress MAYA.
【PV】Mistress MAYA:

http://www.dailymotion.com/video/xdn8h9_pv-mistress-maya-fetish-performanc_creation










◆DOOR/FLOOR◆ VAMPIRE FAMILY
...The night of the damned children
個性豊かな異端者達がお迎え致します...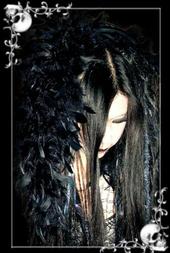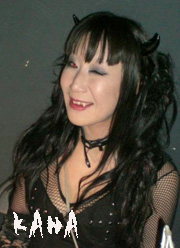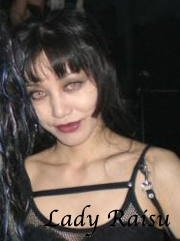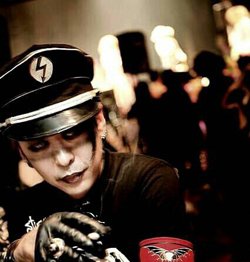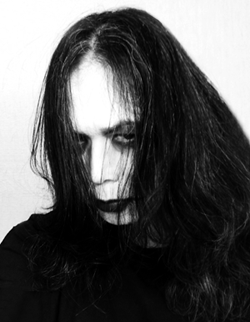 ┳┻┳┻┳┻┳┻┳┻┳┻┳┻┳┻┳┻┳┻┳┻┳┻┳┻┳┻┳┻┳┳┻┳┻┳┻┳┻┳┻┳┻┳┻┳┻┳┻┳┻┳┻┳┻┳






❙ SHOP BOOTH ❙



Gothic/Lolita Shop:PLASTIC+PRIN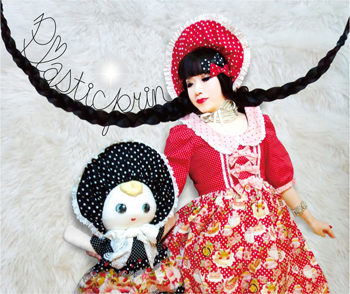 LOLITA VAMPIRE KÜTA ロリータのまま永遠の命を与えられたKÜTA。
お屋敷にいるファミリーのお洋服も作れちゃう才能あるヴァンパイア★
文化人形や不思議可愛いアクセサリーやお洋服のブランド




MORE COMING SOON!!








❙ SPECIAL GOTHIC BAR & FOOD ❙

ABSINTH & WINE BAR
■禁断の薬草酒†アブサン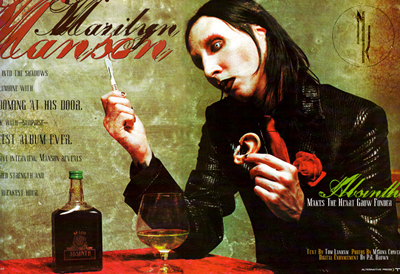 ・MANSINTHE by Marilyn Manson 66.6% Swiss
・KÜBLER ABSINTHE 53% Swiss
・VERSINTHE ABSINTHE 45% France
・
・Red Wine ¥800
and more...

★カクテル等¥500 - Drinks are from 500yen!
GIN / VODKA / Shouchu焼酎 / Whisky

★BOTTLED:Champagne from ¥5000
ワインやシャンパンのボトルもご用意してます♡

★SAKE:Selected Sake 美味しいひやおろしや純米酒など

:POOL★DRINK MENU::
Non-Alcoholic Drinks ¥300
Canned Chuhai / Canned Belgium Beer ¥300
Corona, スミノフ ¥400





┳┻┳┻┳┻┳┻┳┻┳┻┳┻┳┻┳┻┳┻┳┻┳┻┳┻┳┻┳┻┳┳┻┳┻┳┻┳┻┳┻┳┻┳┻┳┻┳┻┳┻┳┻┳┻┳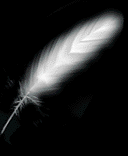 SAKURADAI POOL
東京都練馬区桜台1-7-7 シルバービルB1
Sakuradai1-7-7 Silver B!F, Nerima-ku, Tokyo



皆様の御来場心よりお待ちしております♥ We are looking forward to seeing you...


Midnight★Mess on Facebook:

http://www.facebook.com/groups/midnightmesstokyo


Twitter:

http://twitter.com/MidnightMess_JP




SPECIAL THANKS TO:KAIRAI BUNCH/SAKURADAI POOL




Back to