2008.09.27
09.27 Midnight★Mess 6th ANNIVERSARY with COVENANT
<

◀ SINCE 2002 ▶>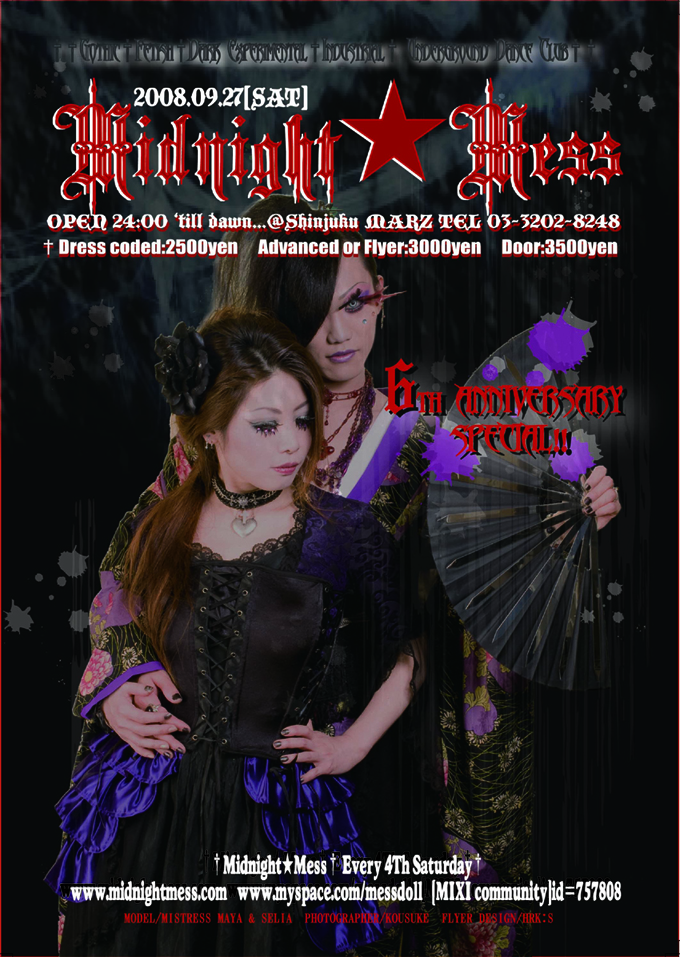 ▶ MODEL: Mistress MAYA & Selia ▶ PHOTOGRAPHER: Kousuke ▶ Flyer Design: HRK:S
■Special Guest live!!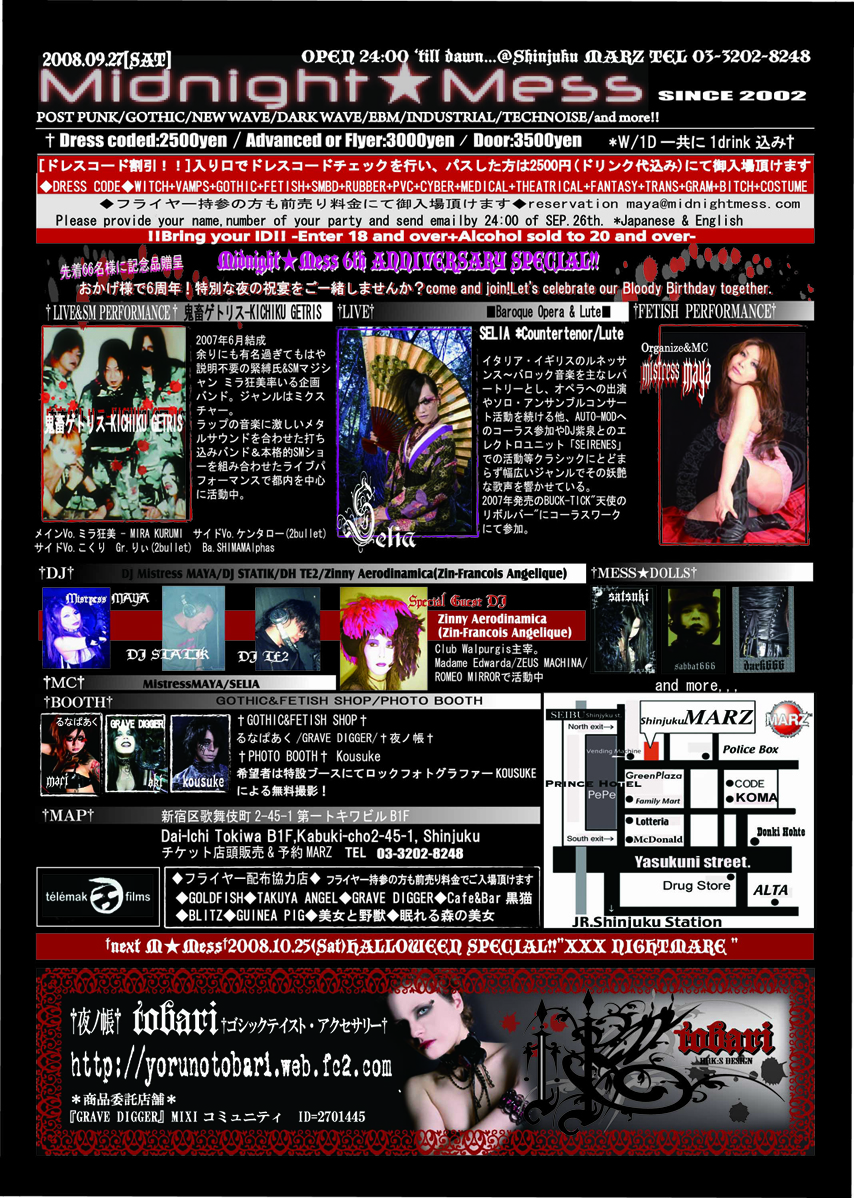 Thank you so much for your SUPPORT!! おかげ様で6周年!!
御来場ありがとうございました!!Thank you so much to everyone who came!!!!
Mistress MAYA would like to thank all the artist who performed and the staff who supported her.
THANX to "CHAOS ROYALE" for appearing as Secret Guest!!


【 CAST 】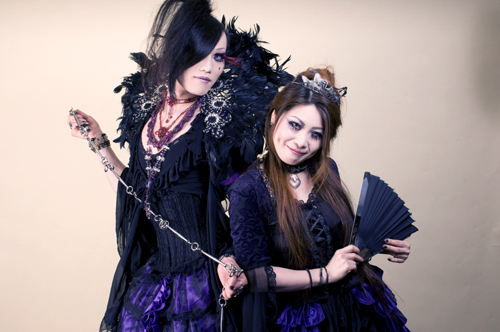 ▶ PHOTO by Kousuke







!!SPECIAL THANX TO ESKIL SIMONSSON!!

COVENANT初来日スペシャルミニライブ!!
EBM,Synthe Pop界の大御所COVENANT(Sweden)のフロントマンEskilの初来日ライヴ!!
■Special Guest live!!


 Special mini live set by Eskil Simonsson
Support member :
Kenji Konishi (4-D Mode1 ) & andro (GOTHIKA )

COVENANT(Sweden)のフロントマンでありボーカリストのエスキルがサポートメンバーに
小西健司(4-D Mode1)とandro(GOTHIKA)を迎え一夜限りのライブを行います。
このような特別な顔合わせが実現。二度と観れないライブになるかもしれません。お見逃しなく。
*フロントマンのエスキルのみの来日になります。
▶COVENANT OFFICIAL WEB-SITE
▶MYSPACE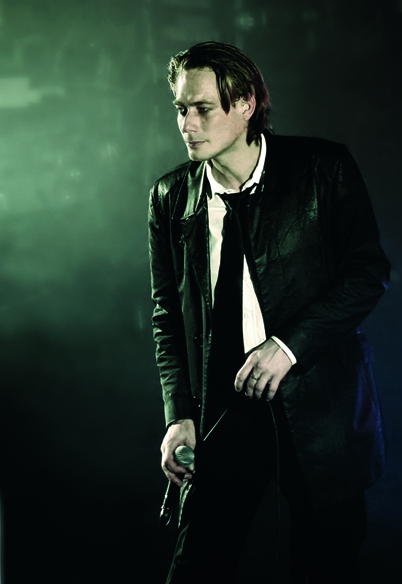 Photo by Claudia Schöne                Covenant - "Bullet" (PV)

Covenant - "Happy Man"(PV)                       Covenant - "Ritual Noise" [Original Track/Photo] 2006

■Discography -full-length albums
Dreams of a Cryotank (December 1994)
Sequencer (May 1996; March 1997 - 2nd ed.; July 1999 - US version)
At least three versions of the album have differing track lists (see Sequencer).
Europa (April 1998)
United States of Mind (February 2000)
Synergy (November 2000)
Live album.
Northern Light (August 2002)
Skyshaper (March 2006)
In Transit (October 2007) : Live Album

COVENANT Profile :
With their beginnings in the mid eighties, Covenant hail from the south of Sweden in a town called Helsingborg. Their music originally was described as big band electronics, but since the early nineties when their membership was pared down to the current trio, their sound has been an accessible blend of electro-pop and industrialism, infinitely danceable, filled with an uplifting and upbeat energy.
Igniting the E.B.M. scene with unstoppable dance floor hits, Covenant remain the mark to reach for many new emerging bands. With the perfect combination of Eskil's haunting, dark, majestic vocals, pulsating techno beats, creative noise samples, and amazing synth work, the band has created a strong North American following as well as an enormous European base.
Their sound has been compared to an assemblage of styles ranging from
Prodigy, Front 242, Front Line Assembly, Apoptygma Berzerk, VNV Nation, and Kraftwerk; but the final result is like nothing anybody else has been
putting out. Covenant has redefined the way Electronic Body Music is perceived.
- Metropolis records -

▶Setlist - 2008.09.27 COVENANT LIVE IN TOKYO
20 Hz
Bullet
Theremin
Tour de Force
Ritual noise
The men
We stand alone
Call the ships to port
-
One world one sky

- LIVE REPORT -
ベルギーのWEB-ZIN "SIDE-LINE"に掲載されました ★LIVE report posted on 02 Oct, 2008
▶Special Thanx to すきすきエレポ



GrindHouse MAGAZINE 51号(11/31発売)にライヴレポート掲載中
GrindHouse MAGAZINE Vol.51 - December 08 - January 09 Issue 
▶Special Thanx to HIRO ARISHIMA/GrindHouse






【 LIVE & SM PERFORMANCE 】
ミラ狂美&鬼畜ゲトリスト- KICHIKU GETRIST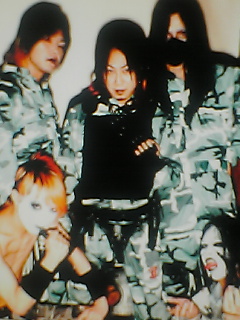 2007年6月結成
余りにも有名過ぎてもはや説明不要のミラ狂美氏率いる企画バンド。ジャンルはミクスチャー。
ラップの音楽に激しいメタルサウンドを合わせた打ち込みバンド&本格的SMショーを組み合わせたライブパフォーマンスで都内を中心に活動中。
美少女拉致監禁、拘束緊縛、逆さ吊り、窒息首絞め、針カッティング、スパンキング、鞭打ち蝋燭責め等。
■多忙極める彼らもこのスペシャルイベントの為集結し祝撃!
メンバー
メインVo.ミラ狂美 - MIRA KURUMI(SM界の騎士/SMマジシャン)
サイドVo.ケンタロー(ゲリラバンド2bullet),
サイドVo.こくり(ゲトリストの異端児)
Gr.りぃ(ゲリラバンド2bullet)
Ba.SHIMAMAlphas
(ゴシック系責め師/カラスマスクのサド男爵)






■LIVE■
Baroque OPERA & LUTE by  〜SELIA〜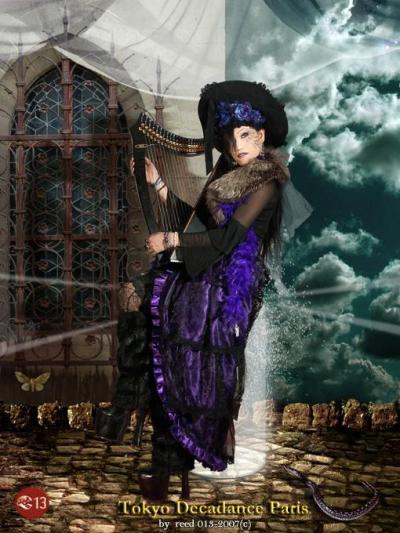 ▶MYSPACE ▶YOUTUBE1 ▶YOUTUBE2
*カウンターテイナーSELIA(counter tenor)と古楽器リュート奏者:KIDOKOROとのユニットになります
▶PROFILE 〜Selia~(セリア)プロフィール






【 SPECIAL GUEST DJ 】ZINNY AERODINAMICA(club walpurgis)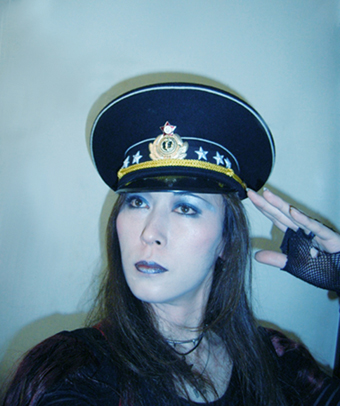 (a.k.a.ZIN-Francois Angelique : vocalist of ZEUS MACHINA,ROMEO MIRROR,and Legendary Positive Punk Band MADAME EDWARDA)
*used to be resident DJ at Midnight★Mess 'till 2005!!
- PROFILE -
Zinny AerodinamicaはDJネームである。
古くからのアーティスト名はZin-Francois Angelique
1980年よりMADAME EDWARDAでボーカリストをつとめた他、
1983年よりクラブワルプルギスでDJ開始。
ZINソロ活動、ZEUS MACHINA結成、ROMEO MIRROR結成、
MidnightMess立ち上がり参加、その他さまざまな活動の後、
いまだ夢をむさぼり続ける幻獣。
ZinnyAerodinamica。魔界の妖精事典によると
ゲルマン系ゲルニカの幻を主食とする幻獣であるが、
それはあまり知られていない 。
現在はZEUS MACHINA及びサイドプロジェクトROMEO MIRRORの
ボーカリストであり、詩人でもある。
男でも、女でもない。つまりたどり着く場所をもたない。
性を超越した越境者だけが棲む魔界の住人のひとり。






"SECRET GUEST"
■SPECIAL LIVE PERFORMANCE■ (aka.666db, NOISE/GIRL.UK)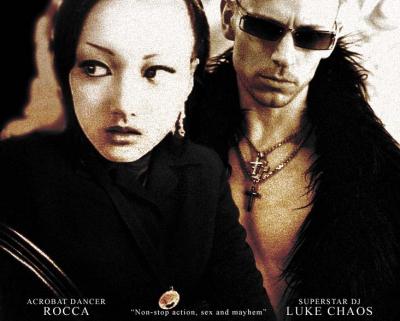 breakcore/mashup/Noise-Hop/Avant-Dancehall ▶MYSPACE
▶WATCH ON MYSPACE.TV
▶2007/06/23 by TÉLÉMAK FILMS
▶2007/06/02 #1 ▶2007/06/02 #2
MMessや[OVERFUSED?]ではお馴染み!カオスロワイヤルのスペシャルライヴ!!
ダンサー加入後はユニットとして生まれ変わり更にパワーアップ。
以前のような重低音ノイズパフォーマンスではありませんが、
重低音さや凄い音圧、ダンサブルチューン、激しさは変わってないので要注意!!!

CHAOS ROYALE is
a live performance unit combining acrobatic dancers, ultra-heavy beats,
realtime mashup remixes, drum machines on fire and a rockstar DJ.
Call it Grimecore, Goth'n'B, Noise-Hop, Avant-Dancehall or whatever you like: expect the kind of bass
pressure that knocks down buildings and non-stop action that burns up the stage (sometimes literally).
アクロバティックでセクシーなダンス、最強なビート、そしてロックスターのカリスマ性も持つDJを
一つにしたライブパフォーマンスを行っています。
ジャンルはグライムコア・ノイズーホップ・ゴシックR'n'B・前衛ダンスホールと言っても、
とにかく世界一超音圧の音楽と比類の無い激しいライブでステージ全体を燃やす。
________

Luke Chaos (music)
Background: UK born, Tokyo-based music producer and performer. Influenced by Reggae, Avant-Garde Classical, Hip-Hop,
Death metal. Ex-frontman of extreme Japanoise unit "Noise/Girl". Currently also vocal and leader of contemporary band "Zeta".
イギリス生まれ。現在東京を中心に活動しているサウンドクリエーター。
レゲエ、前衛的なクラシック、ヒップホップ、デスメタル、に影響されている。
元伝説な激しいノイズプロジェクト「NOISE/GIRL」のリーダー。
現在「ZETA」(2007年結成)と言うバンドのリーダー(Vo.)も行っております。






■Fetish Performance■ Midnight Mistress


Rope Suspension by Mistress MAYA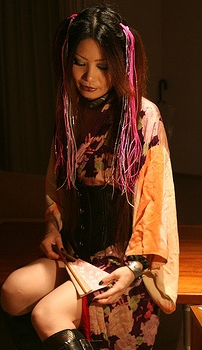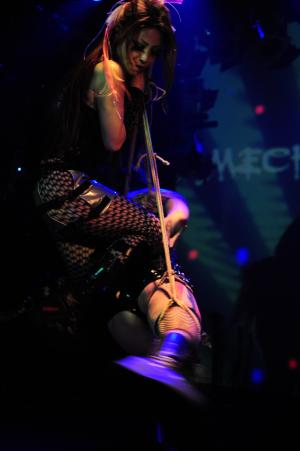 ▶Photo by Kousuke





- ResidentZ -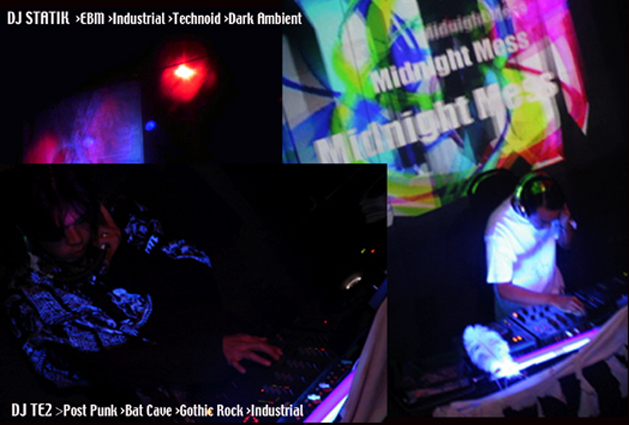 ◆Organize & DJ◆ Mistress MAYA >>Dark Electro >Industrial Rock >Technoid >Breakcore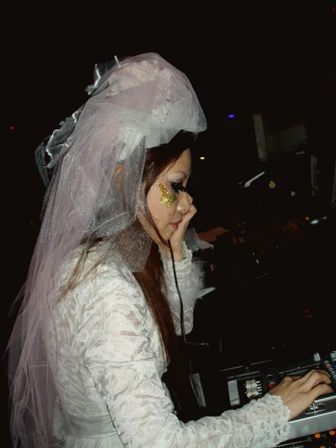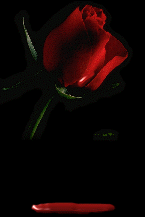 Just bring your body. your mind will follow,,,
*Photo by DJ SiSeN *衣裳協力 by

(Daikan-Yama,Tokyo) & GRAVE DIGGER


◆DOOR/FLOOR◆ †mess★dolls†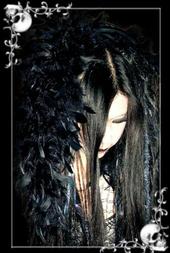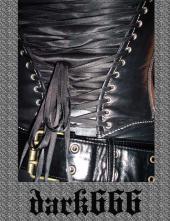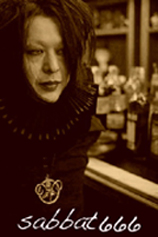 皐月SATSUKI
MASUMI / EMERY
and more,,,




■BOOTH■

【 FETISH/GOTHIC Shop 】


(Harajuku,Tokyo)


*Import & Original PUNK,GOTHIC,FETISH,LOLITA clothing,Corset,Accesary
A.K.I.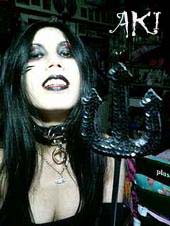 ▶blog
孤人創作屋「るなぱあく(Luna Park)」*コサージュ、オリジナルアクセサリー
まりMari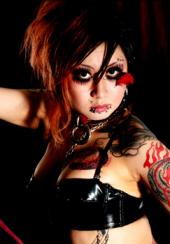 photo by





†夜ノ帳† TOBARI


*Gothic Taste Accesary ▶Design by HRK:S


【 PHOTO Booth 】
■撮影■ PHOTO by 




▶SUPPORTED by 

  ▶SPECIAL THANKS to

EIJI MATSUDA(message)



▶THANKS to
■撮影■ VIDEO 

  ■撮影■ PHOTO 



AKI(GRAVE DIGGER) / †夜ノ帳† tobari
Graphic Designer: HRK:S
Special Thanx to all you supported us!!






【 Playlist 】080927 Midnight Mess 6tn Anniversary

GUEST DJ Zinny Aerodinamica (Club walpurgis)
1.Sweet Charity - Theme
2.The Creatures - Right Now
3.Uranium 235 – You Spin Me Round (Like A Record)
4.Bauhaus – St .Vitus Dance
5.Gorgonas - Machines
6.Christian Death – Romeo's Distress
7.London After Midnight – Feeling Fascist?
8.Belfegore – That's All I Wanted (Extended)
9.Specimen – Kiss Kiss Bang Bang (Remix)
10.Sisters of Mercy – Alice (Remix)
11.Rosetta Stone – Witch (Extended)
12.Snake Skin – Etterna (Club Mix)
13.Orgy – Blue Monday
14.International Crisis- Rebel Rebel
15.T.Rex – Children of The Revolution
16.Bauhaus – Ziggy Stardust
17.Siouxsie & The Banshees – The Staircase (Mystery)
18.I AM X - President
19.The Newlydeads – Cities In Dust
20.Sex Gang Children – Sebastian
21.Nina Hagen & The Wild Romance – Herman's Door
22.Roland S. Howard & Lydia Lunch - Some Velvet Morning

DJ STATIK
HHH - "Knallschallmaschine"
100blumen - "Disko Mongo"
S?X Only - "S?X Man, One Night"
Perfection Plastic - "Hard Times"
Distatix - "Medication"
Modulate - "Bass Alert"

DJ TE2
*not available,,,