御来場ありがとうございました!!Thank you so much to everyone who came!!!!
Mistress MAYA would like to thank all the artist who performed and the staff who supported her.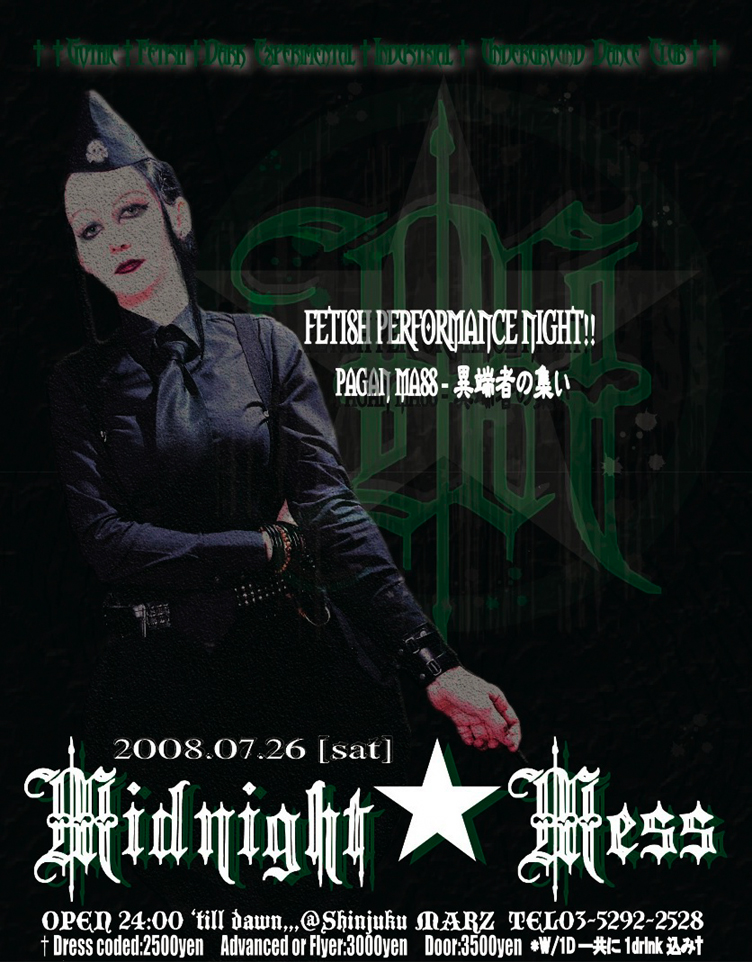 ▶ MODEL: SAPPHIC SPOILER ▶ PHOTOGRAPHER: Kousuke ▶ Flyer Design: HRK:S


【 CAST 】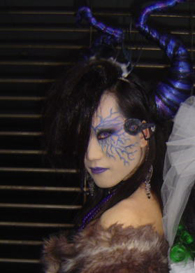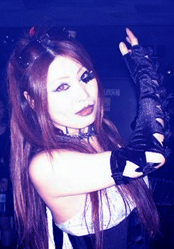 ■LIVE■
Baroque OPERA & LUTE by  〜SELIA〜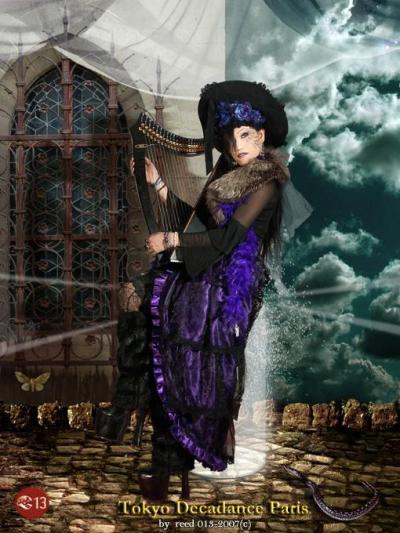 ▶MYSPACE ▶YOUTUBE1 ▶YOUTUBE2
*カウンターテイナーSELIA(counter tenor)と古楽器リュート奏者:KIDOKOROとのユニットになります

-PROFILE- 〜Selia~(セリア)プロフィール
イタリアやイギリスのルネッサンス〜バロック音楽を主なレパートリーとし、
オペラへの出演やソロ・アンサンブルコンサート活動を続ける一方で、都内を中心とした各地で開催される様々なイベントで演奏活動を行う。
バロック音楽に独自の解釈を加え、総合芸術的を志向するステ-ジングは様々な分野で評価を得ている。
演奏家として活躍する一方で、一般にはあまり知られる事の無い古楽の作曲家の作品を積極的に研究し、
日本初演の曲等も数多く取り上げ、その音楽の素晴らしさを現代に蘇らせている。
これまでにヘンデルのオペラ「アグリッピーナ」や、モンテヴェルディのオペラ「オルフェオ」に出演、
またバロック音楽のソロコンサート・デュオリサイタル、アンサンブル演奏会を開催し好評を得ている。
現在ソロ活動の他にバロックアンサンブル団Chiaroscuro--キアロスクーロ--に所属。
またDJ紫泉とのエレクトロユニット「SEIRENES」での活動や、伝説のポジパンバンド「AUTO-MOD」でのコーラスワークでも活躍中。
また2007年には"BUCK-TICK"のレコーディングにもコーラスワークにて参加。
クラシックにとどまらず、幅広いジャンルでその妖艶な歌声を響かせている。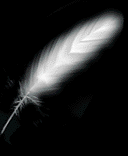 OUT NOW!!
★2007年9月19日発売のアルバム
BUCK-TICK "天使のリボルバー"(BMG JAPAN) に2曲コーラスで参加
▶コーラスで参加 AUTO-MOD「EASTERN GOTHIC」
▶ソロ1曲収録 「TOKYO DARK CASTLE 」V.A. CD


Selia @ Midnight Mess 2008.7.25 by The Count De Sang





■FETISH PERFORMANCE■
Body Suspension by NAMIK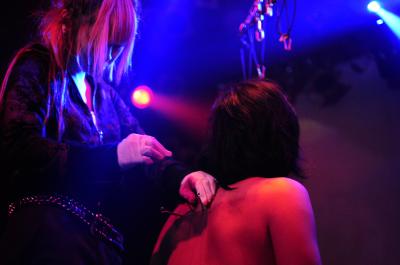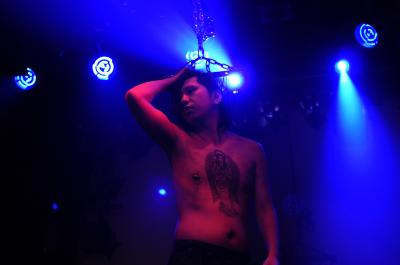 photo by Kousuke
 
■NAMIKI
日本を代表する天縫無衣のサスペンショニスト
世界広しと云え共、ここまでサスペンションをエンターティメントとして成立させた男は居ない!
■ちこZ
ロリ顔に似合わず残酷非道なパートナー
なみきの身体に針を刺しまくる!高速自吊りアーティストとしてNamiki氏のショーを多彩なものとしている。

人体改造ファンで知らない人は居ないでしょう。国内最初にサスペンションパフォーマンスを始めたナミキ氏の迫力あり過ぎのショー!!
痛そうなの苦手な方はごめんなさいっw
▶NAMIKI blog 吊られ気味
▶MIXI COMMUNITY
Beauty and Beast(Shinjuku)






■SM PERFORMANCE■


Rope Suspension by Mistress MAYA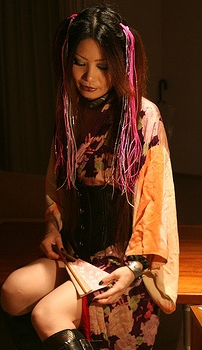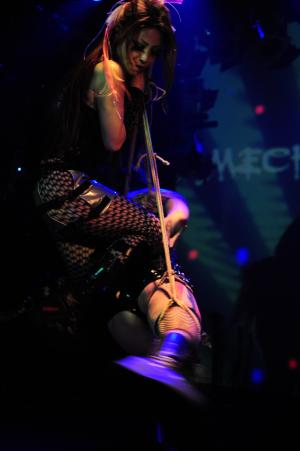 ▶Photo by Kousuke





- ResidentZ -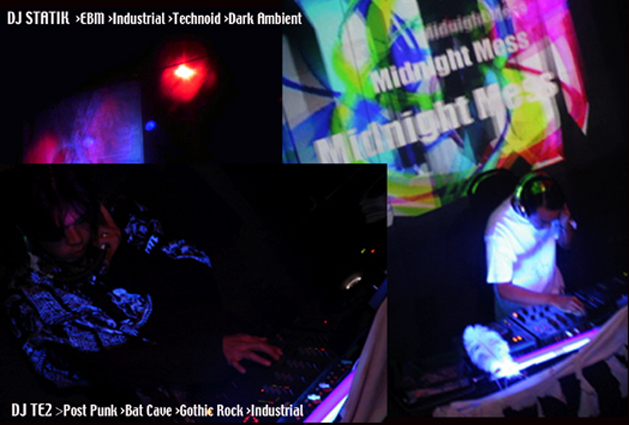 DJ STATIK ▶MYSPACE

◆Organize & DJ◆ Mistress MAYA >>Dark Electro >Industrial Rock >Technoid >Breakcore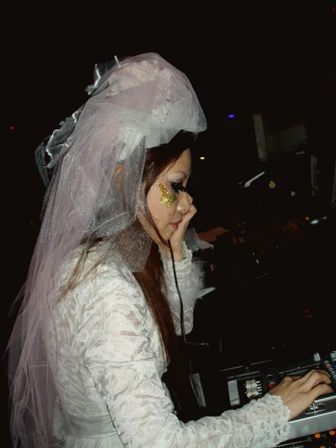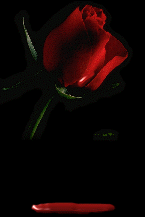 Just bring your body. your mind will follow,,,
*Photo by DJ SiSeN *衣裳協力 by

(Daikan-Yama,Tokyo) / GRAVE DIGGER(Harajuku,Tokyo)


◆DOOR/FLOOR◆ †mess★dolls†

皐月SATSUKI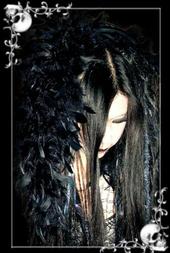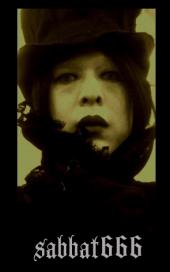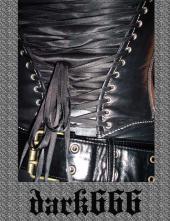 and more,,,



▶ † mess★dolls † 腕章 刺繍 : PUNCHING NISHIMURA ▶design by MAYA






【 FETISH/GOTHIC Shop 】


(Harajuku,Tokyo)


*Import & Original PUNK,GOTHIC,FETISH,LOLITA clothing,Corset,Accesary
A.K.I.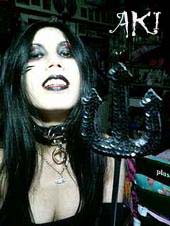 孤人創作屋「るなぱあく(Luna Park)」
*造花や羽根を用いたコサージュ・ヘッドドレス、
オリジナルTatooシール、黒色系御 洋服、キラキラ小物etc,,,
まりMari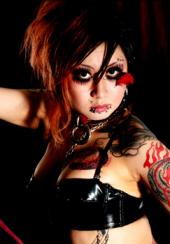 photo by






†夜ノ帳† TOBARI


*Gothic Taste Accesary ▶Design by HRK:S





【 PHOTO Booth 】■撮影■ PHOTO by 


Professional photo will be taken by Rock PHOTOGRAPHER Kousuke for no charge!! Photo will be printed and given as gift at next MMess.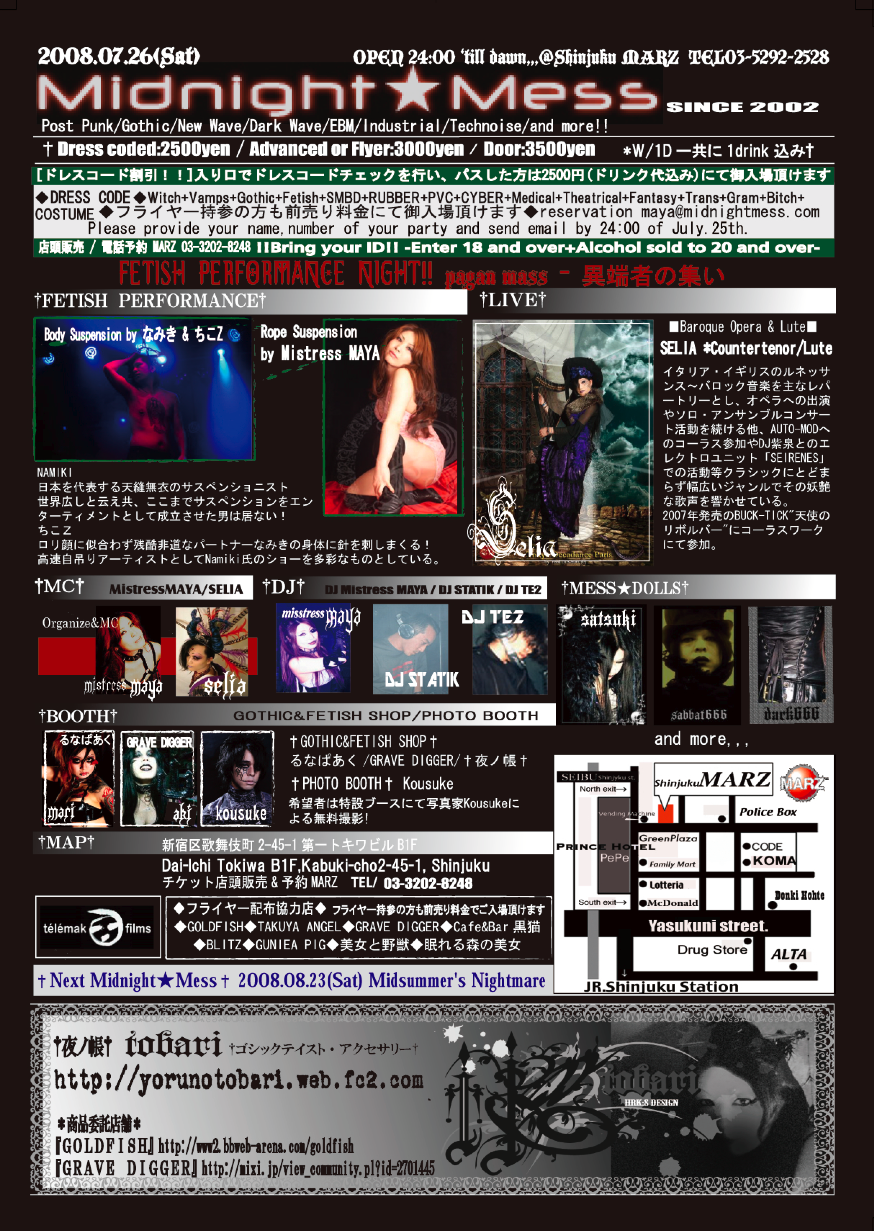 ▶SUPPORTED by 

  ▶SPECIAL THANKS to

EIJI MATSUDA(message)



▶THANKS to
■撮影■ VIDEO 

  ■撮影■ PHOTO 



AKI(GRAVE DIGGER) / †夜ノ帳† tobari Graphic Designer: HRK:S





【 PLAYLIST 】
▶DJ STATIK

Panzar - "Industrielles Massenmord"
Haus Arafna - "Golgatha In Flames"
The Protagonist - "Strife"
Re:pro - "Classic Neurological Intrusion"
Zyankali - "Zyklon"
Bios - "Power Z"
++99 - "Lernen Am Modell"
Chrome Division - "Body Crash"
Last Days of S.E.X. - "Revenge Of The Collective S.E.X."
--------------------------------------------------------
Combichrist - "Sent To Destroy (Suicide Commando Mix)"
Feindflug - "Ersatzteil"
Distatix - "Medication"
Andromeda 5 - "Fleisch Und Blut (Nexus Nemesis mix)"
Aesthetic Perfection - "Pale (Beta Edit)"
W.A.S.T.E. - "Omega 3"
Exocet - "South End (Colombian Connection Rmx by Manufactura)"
Converter - "Butcher"
Stainless.4571 - "Hirnblutung"
Nachtmahr - "Leistung"
SAM - "World Of Shit (Soman RMX)"
Die Braut - "Servidor De Dios"
Hocico - "A Fatal Desire"
Suicide Commando - "Conspiracy With The Devil (Dawn of Ashes remix)"
Alien Vampires - "Evil Generation"
Noxious - "Take The Pain You Fucking Slut"