御来場ありがとうございました!!Thank you so much to everyone who came!!!!
Mistress MAYA would like to thank all the artist who performed and the staff who supported her.



初登場のPHOTO Booth!! ■撮影■ PHOTO by 


御来場の皆様の中でご希望の方を写真家Kousukeが無料にて撮影させて頂きました♪
次回MMess御来場時にプリントした写真をお渡ししますのでブースにてお申し出下さいませ。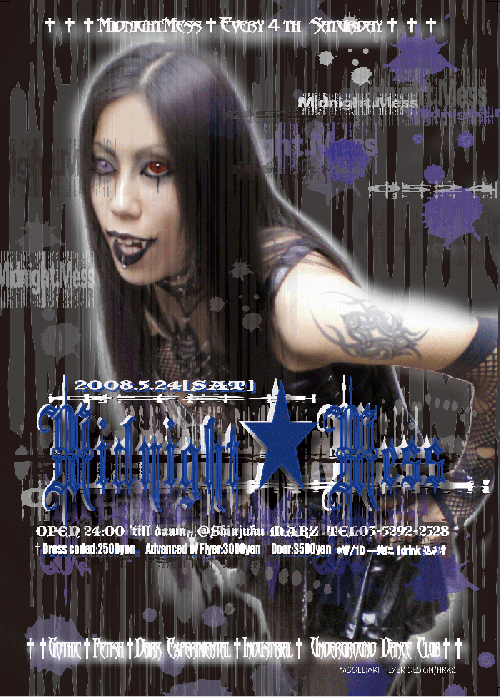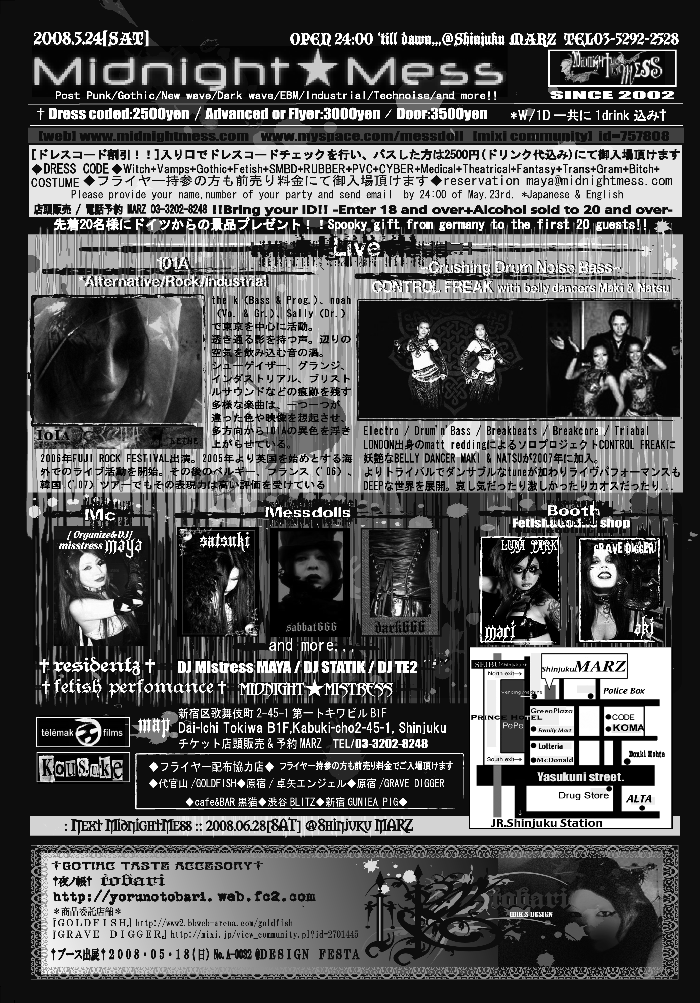 ▶Flyer model : AKI(GRAVE DIGGER)  ▶flyer design by HRK:S



先着20名様にドイツからの景品プレゼント!!- Spooky gift from germany to the first 20 guests!! Special THANX to GRAVE DIGGER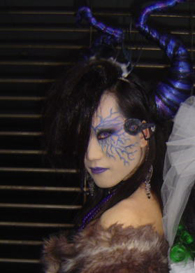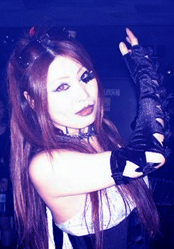 *わが 歌姫(?!)セリア君は海外公演の為お休みになります
▶SELIA on YOU TUBE
[ mixi community]




【 LIVE 】
*alternative/rock/industrial



the k(Bass & Prog.)、noah(Vo. & Gr.)、Sally(Dr.)東京中心に活動。
透き通る影を持つ声。辺りの空気を飲み込む音の渦。シューゲイザー、
グランジ、インダストリアル、ブリストルサウンドなどの痕跡を残す多様な楽曲は、
一つ一つが違った色や映像を想起させ、多方向から101Aの異色を浮き上がらせている。
2006年FUJI ROCK FESTIVAL出演。
2005年より英国を始めとする海外でのライブ活動を開始。その後のベルギー、フランス('06)、
韓国('07)ツアーでもその表現力は高い評価を受けている。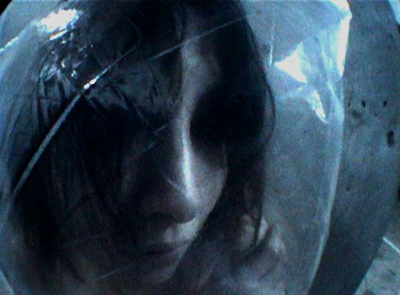 ▶MYSPACE
                                           ▶LIVE CLIP sex slave UK Tour 2005
▶LIVE MOVIE ▶PV "one day"
▶MIXI COMMUNITY






-Crushing Drum Noise Bass-


CONTROL FREAK with belly dancers Maki & Natsu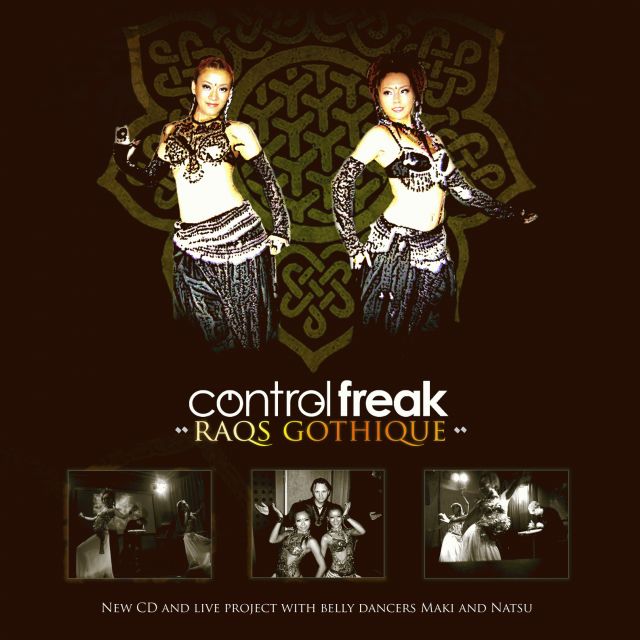 Electronica / Drum & Bass / Breakbeats / Breakcore / Triabal

▶MYSPACE


LONDON出身のmatt reddingによるソロプロジェクトCONTROL FREAKに
妖艶なBELLY DANCER MAKI & NATSUが2007年に加入。
よりトライバルでダンサブルなtuneが加わりライヴパフォーマンスも
DEEPな世界を展開。哀し気だったり激しかったりカオスだったり...
CONTROL FREAK ia a solo project by matt redding from LONDON.UK.
Belly dancers,MAKI & NATSU joined in 2007.
more tribal and danceble tune was added and a live performance is deeper than before.


▶Freestyle Drum Noise Bass. Function:Girl performed at Midnight Mess, Shinjuku Marz. Visuals by Visual Works Fraw









■Fetish Performance■ Midnight Mistress
毎回ハプニング的に始まる妖しくハード♥にロリータを責めるMISTRESS MAYAの公開調教?!
縛りやらぽろりやら、、エロく激しいPERFORMANCEを展開☆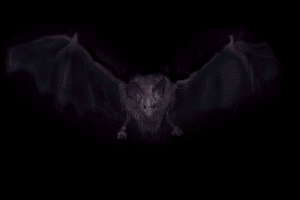 - ResidentZ -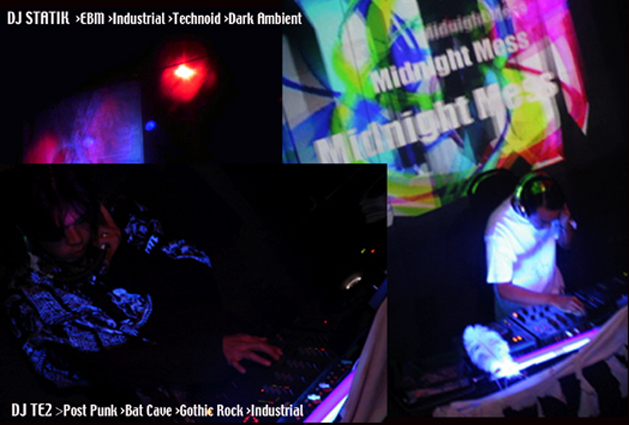 ◆Organize & DJ◆

Mistress MAYA

Dark Electro / Industrial Rock / Technoid / Breakcore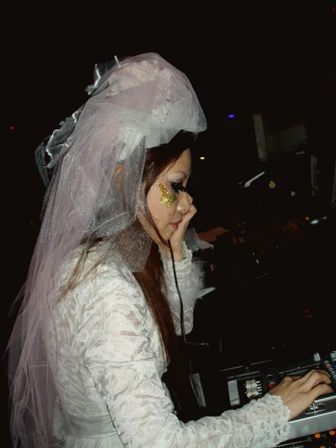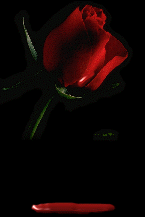 Just bring your body. your mind will follow,,,
*Photo by DJ SiSeN *衣裳協力 by

(Daikan-Yama,Tokyo) / GRAVE DIGGER


◆DOOR/FLOOR◆ † mess★dolls †

皐月SATSUKI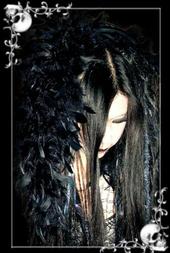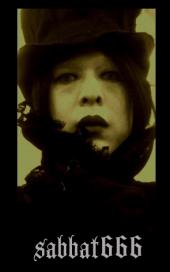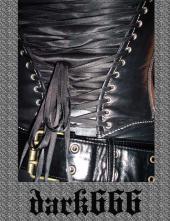 and more,,,



▶ † mess★dolls † 腕章 刺繍 : PUNCHING NISHIMURA ▶design by MAYA



【 FETISH/GOTHIC Shop 】


(Harajuku,Tokyo)


*Import & Original PUNK,GOTHIC,FETISH,LOLITA clothing,Corset,Accesary
A.K.I.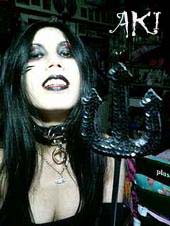 インポート&オリジナルのパンク・ゴシック・フェティッシュ・ロリータファッション&グッズの店グレイブディガー
☆世界各国から買い付けた服やアクセサリー、
雑貨類がメイン。オリジナルや古着も扱っています。
激安コルセット、ドレス、sexyランジェリー、インポートストッキング&タイツ、
ホラー映画Tシャツ、悪趣味ポスター、洋雑誌(ゴス、メタル系、エロ本w)オモチャ、CD、etc・・・




孤人創作屋「るなぱあく(Luna Park)」*コサージュ、オリジナルアクセサリー
デザフェスや都内クラブイベントのファッションショウ出展、装飾品等制作。
舞台・ライヴ衣装のデザイン制作、コスプレ衣装制作、スタイリスト等。
「着飾る」コトに関しての、あらゆるモノヅクリ。
まりMari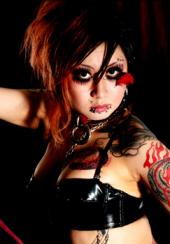 photo by



†夜ノ帳 † yorunotobari
▶委託店◇GOLD FISH◇




【 PHOTO Booth 】 *初登場!!
■撮影■ PHOTO by 


御来場の皆様の中でご希望の方を写真家Kousukeが無料にて撮影致します♪
次回MMess御来場時にプリントした写真をお渡しします







▶SUPPORTED by 

  ▶SPECIAL THANKS to

EIJI MATSUDA(message)




▶THANKS to
■撮影■ VIDEO 

  ■撮影■ PHOTO 





Playlist [ DJ STATIK ]

Meson - "Ex Oblivione"
Kommando - "Necroinvasiv"
Ebola - "Transmission 0"
Manufactura - "A Woman Scorned [A Woman Torn mix]"
H.I.V.+ - "Carceral Univers"
Schwester Seziert - "Bounce"
Exocet - "South End (Colombian Connection Rmx by Manufactura)"
Stainless.4571 - "Hirnblutung"
Contaminant - "Misleader"
Sonar - "Wanting Them"
Unter Null - "Amped"

[ DJ TE2 ]
The Cure - Dead Soul
Marilyn Manson
Siouxsie and the Banshees
Einstürzende Neubauten
and more...

【 LIVE 】101A

[ DJ TE2 ]
Dead or Alive - "You Spin Me Around"
Nitzer Ebb - ''Let Your Body Learn''
Sisters of Mercy
Killing Joke - "Love Like Blood"
The Cure - "Hanging Garden"
Corpus Delicti - "saraband"
Mechanical Cabaret - "Nothing In Life Thats Worth Having Will Not Be Taken Away (Dorothy Parker Abridged Version)"
Das Ich -

  and more,,,,

【 LIVE 】CONTROL FREAK with belly dancers Maki & Natsu

[ DJ MAYA]
Rammstein - "Engel"
NINE INCH NAILS - "Fist Fuck(remixed by j.g.thirlwell))"

http://www.nin.com


This Morn' Omina - "One eYed Man"
Run Level Zero - "My Tormentor"
NINE INCH NAILS - "Wish(remixed by j.g.thirlwell)"
Yade - "Total War"
Iszoloscope - "-28C & Falling (Twiin rmx)"
S.K.E.T. - "Warholic"
Iszoloscope - "Once The Inferno"
Punish Yourself - "Come On Come On"
AND ONE - "Love And Finger"
London After Midnight - "Kiss(Ra Mix)"
Die Krupps - "Inside Out (Carcass Remix)"

 and more,,,,

[ DJ STATIK ]
Patenbrigade: Wolff - "Gefahrstoffe (Hocinoizeflug Club Mix)"
Ionic Vision - "Die Macht (Millimetric Remix)"
X-Fusion - "Bouncer Of The Pearly Gate"
Asphyxia - "Obliterate My Fate"
Tyske Ludder - "Kinkat (Edit by Feindflug)"
Organic Cage - "Kill Your TV"
Sonic Violence Experience - "Overkill (Remix By Maschinenkrieger KR.52 vs.
Disraptor)"
Winterkalte - "Stop Climate Changeer"
S.K.E.T. - "Burnout Sonority"

[ DJ TE2 ]