2009.07.25
07.25†Dead Souls for Gothic Lovers†
<

◀ SINCE 2002 ▶>


ご来場ありがとうございました - Thank you so much to everyone who attended.

Joy Divisionの名曲"Dead Souls"にちなんで"Dead Souls for Gothic Lovers"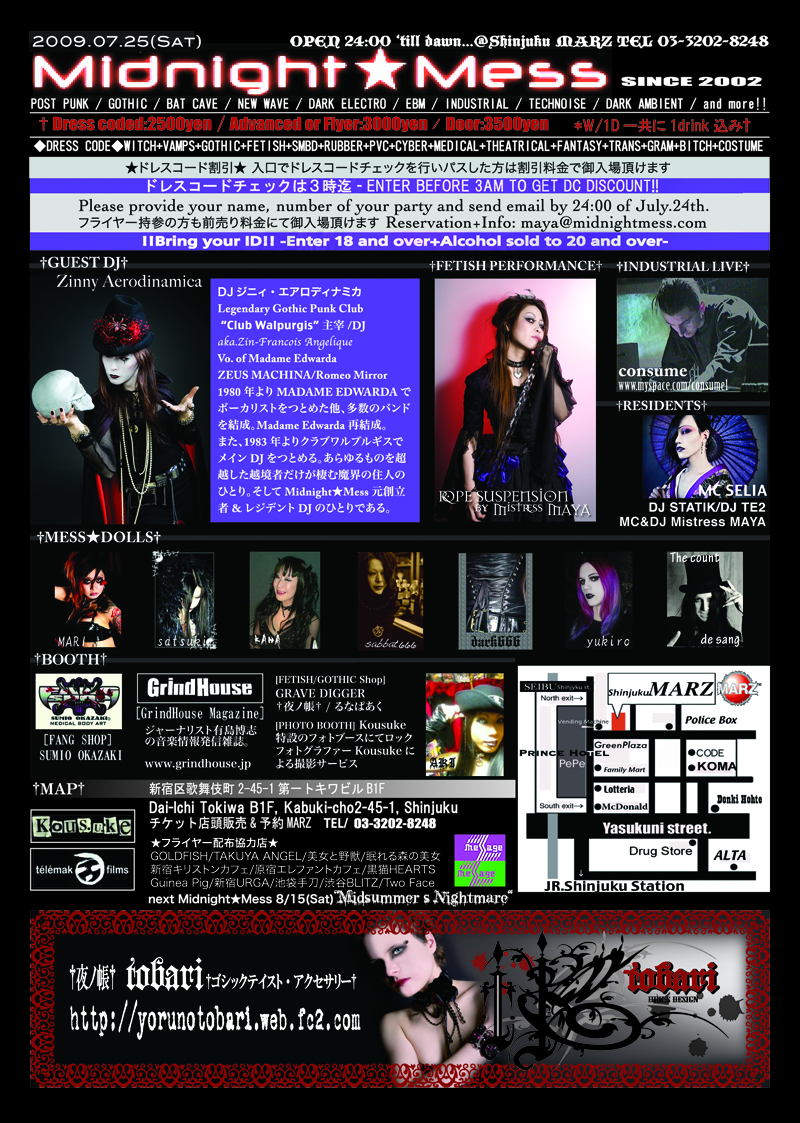 "Dead Souls for Gothic Lovers"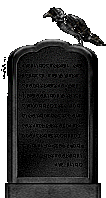 Guest DJにClub WalpurgisよりZinny Aerodinamicaを迎えてのゴシックパーティー!!
2002年にDJ.MAYA/DJ.Sato.Mと共にMidnight★Messを創立した一人であり、
Club Walpurgis再開の2005年迄Midnight★MessのResident DJ/Art Directorとして活躍。


【 SPECIAL GUEST DJ 】ZINNY AERODINAMICA(Club Walpurgis)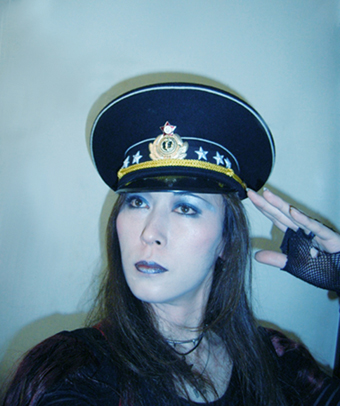 (a.k.a.ZIN-Francois Angelique : vocalist of ZEUS MACHINA,ROMEO MIRROR,and Legendary Positive Punk Band MADAME EDWARDA)
*co-funder of Midnight★Mess and resident DJ 'till 2005!!
Playing: Gothic/Bat Cave/Dark Wave/EBM/and more,,,

- ジニィ・エアロディナミカ -
Zinny AerodinamicaはDJネームである。
古くからのアーティスト名はZin-Francois Angelique
1980年よりMADAME EDWARDAでボーカリストをつとめた他、
1983年よりクラブワルプルギスでDJ開始。
ZINソロ活動、ZEUS MACHINA結成、ROMEO MIRROR結成、
2002年Midnight★Mess立ち上げ参加、その他さまざまな活動の後、
いまだ夢をむさぼり続ける幻獣。
ZinnyAerodinamica。魔界の妖精事典によると
ゲルマン系ゲルニカの幻を主食とする幻獣であるが、
それはあまり知られていない 。
現在はZEUS MACHINA及びサイドプロジェクトROMEO MIRRORの
ボーカリストであり、詩人でもある。
男でも、女でもない。つまりたどり着く場所をもたない。
性を超越した越境者だけが棲む魔界の住人のひとり。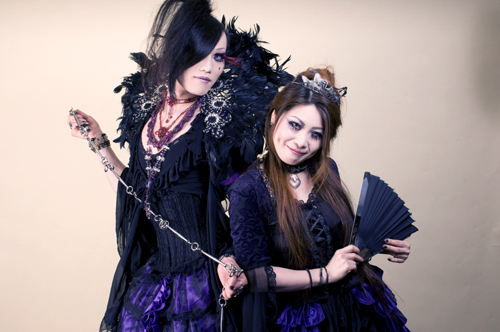 Photo by Kousuke
♰わが歌姫セリア君とオーガナイザーマヤのコンビ♰




【 LIVE 】*Noise/Industrial
Seij minus aÇ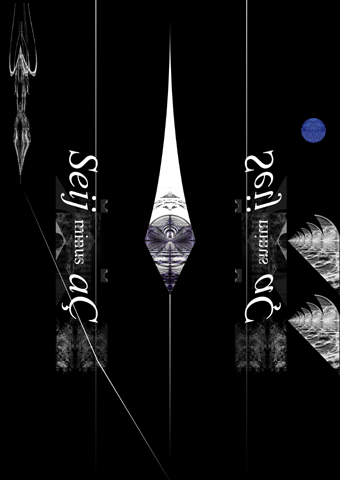 ➣Performance by hAj - Programming/Voice
暫くの静寂の後の復活ライヴ

名称、セイジマイナサスは「静寂に内在する負次元(の音楽)」 を示唆する。マイナス (minus) は負の数の次元を表わす。
苦悩、悲しみ、恐れ、破滅、スピード性、光線とそれらの基盤との共感を背景に具現化となる。
the name signifies "(music of) a negative scalar dimension w/in
desolate silence". silence in japanese is seijaku.
it has emerged from a conception and technical manipulation
associating w/ invisible layers of agony, sorrow, fear, destruction,
speed, light and their basis.

Seij minus aÇ - "blacker a.i. suddenly diagonal" (under development)
Seij minus aÇ - "less physical vortex" (sonxcd 004, 2002)
released by sonic-x (germany)


http://seijminusac.net




http://myspace.com/seijminusac







【 LIVE 】*Noise/Industrial


(Canada)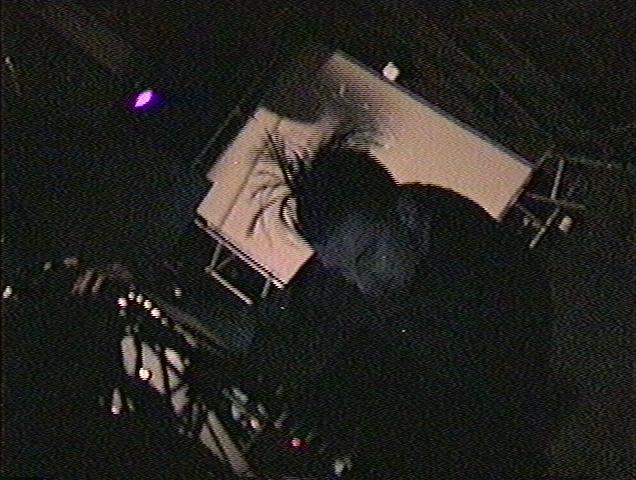 Consume has been lowering the standards of electronic music listeners throughout North America since 1998.
Consisting of equal parts militant gabber/industro-stomp, atonal noise blasts, IDM-ish rhythm collisions, and
irritating sampling, the music is designed specifically to upset your mom.
consume tempers the all-out mechanical assault with a healthy dose of humour, meant to be a refreshing ch
ange from the obligatory pessimism and morbidity of the industrial community.Having produced two self-rele
ased CDRs, Rhythm Abuse and Shallow End of the Scene Pool, and known for over-the-top, energetic live p
erformances at both hardcore techno and industrial events, consume is the musical equivalent of a feces-hu
rling cybernetic monkey.








❙ FETISH FERFORMANCE❙
ROPE SUSPENSION by Mistress MAYA & CHIYUMI+YU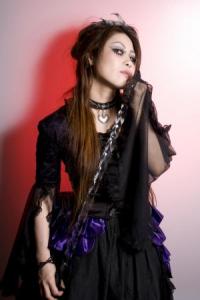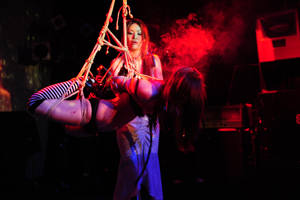 ▶Photo by Kousuke
[18禁] 妖艶な魔女MISTRESS MAYAによる公開調教的パフォーマンス。
妖しくハード♥にロリータや美少年を責め、縛りやらぽろりやら、、エロく激しい世界を展開☆

➣PLAYLIST
Graeme Revell - Tomb Raider Main Titles/Lara Croft At Home
Virgin Prunes - untitle
Nine Inch Nails - Dead Souls
SANdBLASTING - The Ripper(SINO RE- BUILD PROJECTS Remix)
Rose Noire - Acquittal
Joy Division - Dead Souls






- ResidentZ -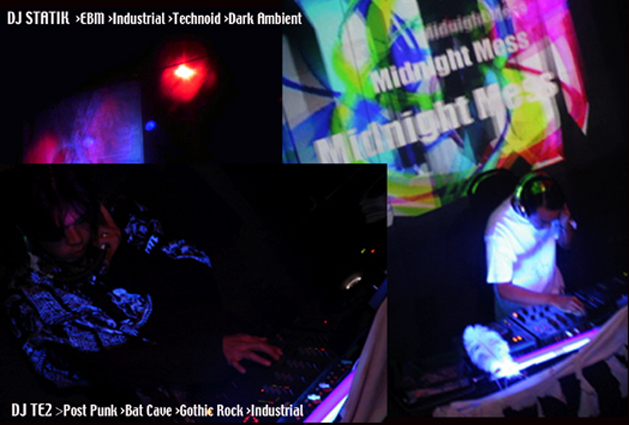 ➣PLYLIST - DJ STATIK
Exocet - "Narcoholica"
Syntech - "Blaster"
Imminent Starvation - "Lost Highway 45"
Dive - "Bloodmoney"
Synth-Etik - "Blessed"
E.I.D. - "Koerperanalyse (rmx by 2young2die)"
Kopfer Kat - "Hubbub"
Cenotype - "Unearthed (Remixed by C/A/T)"
--------------------------------------------------------
Wynardtage - "My Life (Remixed By Die Braut)"
Kriminal Minds - "Back To What You Are (Military No Fashion Mix)"
Militant Cheerleaders On The Move - "Work Is Violence"
:Wumpscut: - "UK Decay"
Manufactura - "Dance Of Blood"


【 Organize & DJ 】Mistress MAYA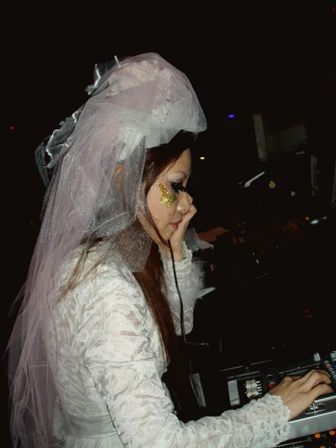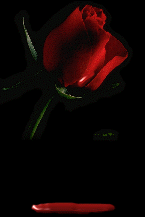 Just bring your body. your mind will follow,,,
▶DARK ELECTRO / TECHNOID / INDUSTRIAL ROCK / BREAKCORE / and more,,,
*Photo by DJ SiSeN *衣裳協力 by




◆DOOR/FLOOR◆ †mess★dolls†
     ...The night of the damned children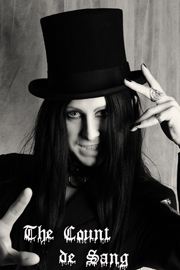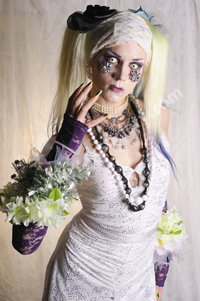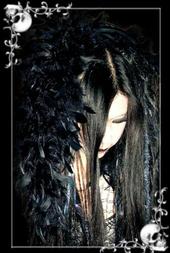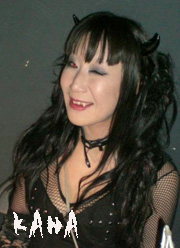 血の伯爵&雪路/YUKIRO Photo by Kousuke

✯ DRESS CODE CHECK ✯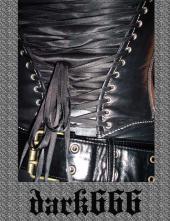 黒猫メィ

and more,,,




† mess★dolls † 腕章
▶刺繍 by 刺繍奏/PUNCHINGNISHIMURA ▶design by MAYA


✚ BOOTH ✚

❙ FETISH/GOTHIC Shop ❙




*Import & Original PUNK,GOTHIC,FETISH,LOLITA clothing,Corset,Accesary,CD,Magazine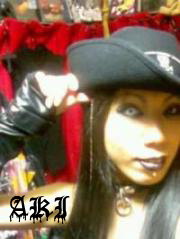 ▶MIXI COMMUNITY
▶BLOG

 ➤Midnight★Mess出演アーティスト掲載中
  

-都合の為、お休みになり申し訳ありません-
❙ PHOTO Booth ❙
■撮影PHOTO by 


▶blog
コサージュ、オリジナルアクセサリー







▶SUPPORTED by 

  ▶SPECIAL THANKS to

EIJI MATSUDA(message)



▶THANKS to
■撮影■ PHOTO Seiichirou Uchida

                                  
                                                           [ RETURN TO TOP ]