ご来場ありがとうございました - Thank you so much to everyone who attended.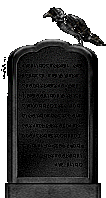 Photo shoot by



▶every 4th Saturday except August
★☆★☆★☆★☆★ TWIN PEAKS × ALICE IN WONDERLAND ★☆★☆★☆★☆★
今月は不思議の国からやって来たレイトラックを迎えてのMAD TEA PARTY!!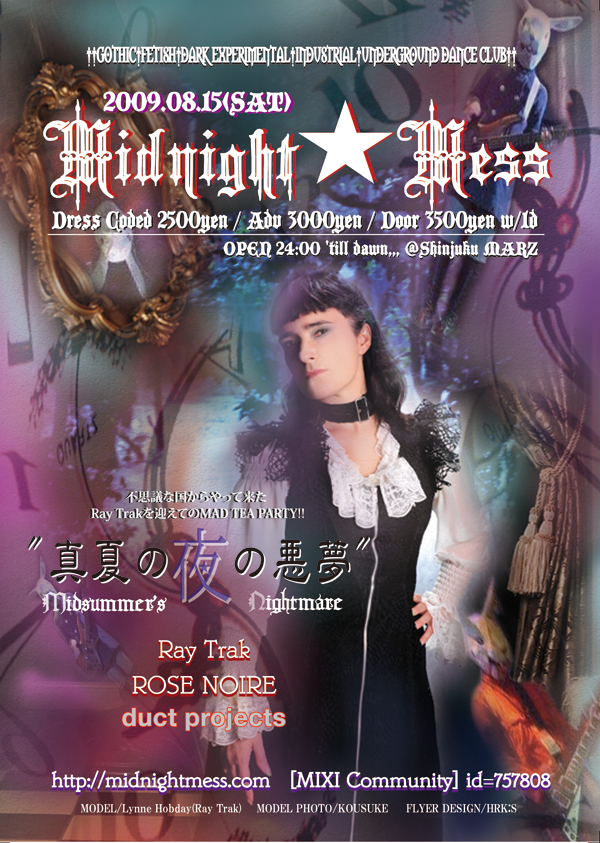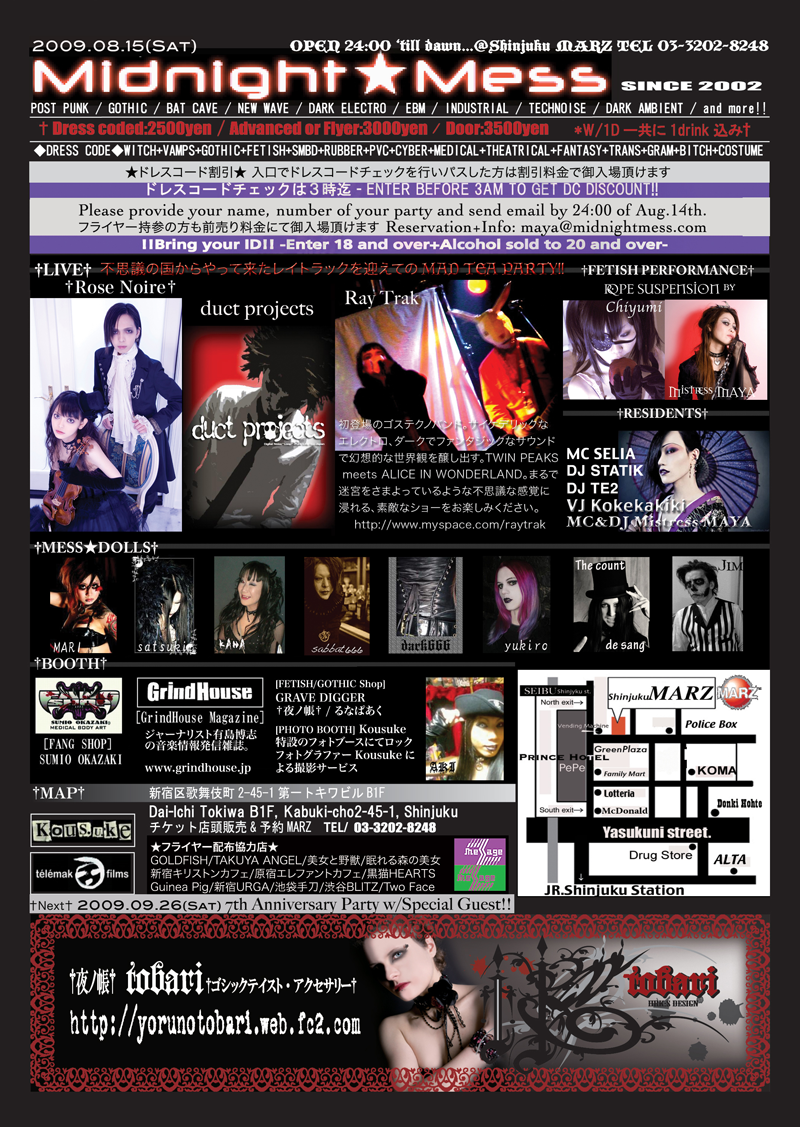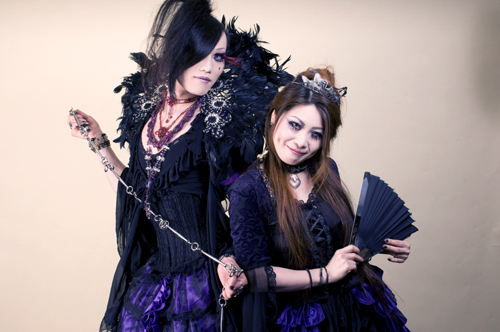 ▷SELIA on MYSPACE
▶SELIA on YOU TUBE
▶mixi community




✛ LIVE ✛
Ray Trak (レイトラック)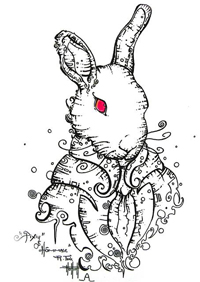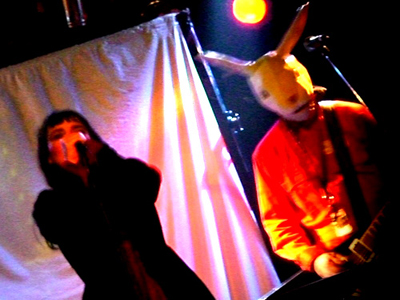 ➣Official MYSPACE ➣Ray Trak Live 2006 on MYSPACE VIDEO


http://www.lastfm.jp/music/Ray+Trak



Midnight★Mess初出演!! - Electro Psychedelic / Goth Techno / Alternative -
不思議の国からやってきたゴステクノバンド、Ray Trak(レイトラック)。
サイケデリックなエレクトロ、ダークでファンタジックなサウンドで幻想的な世界観を醸し出す。
TWIN PEAKS meets ALICE IN WONDERLAND。まるで迷宮をさまよっているような不思議な感覚
に浸れる、RayTraKの素敵なショーをお楽しみください。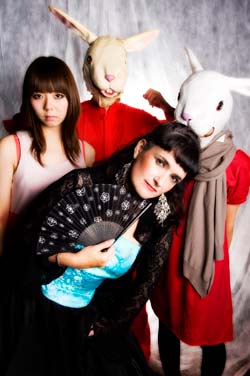 Photo by Kousuke


-Member-
Lynne Hobday - Goth Vocal
Ray Trak - Guitar and Programming
Hayashibe - Bass
Chihiro - Violin
VJ - HARUNA(Kokekakiki)







✛ LIVE ✛
†ROSE NOIRE†
男性ヴォーカルと女性ヴァイオリンの耽美ユニット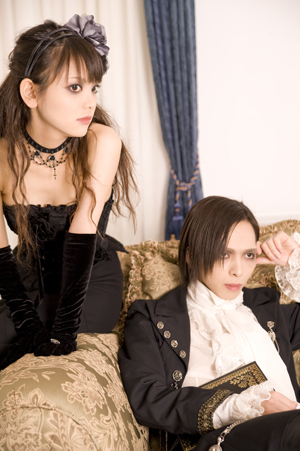 Photo by IKEDA

Rose Noire - "awareness"


VocalのLouie(Compose/Arrange)とViolinのJill(Web/PV等のArt Direction)の2人によるユニット。
2人が東京藝術大学器楽科在学中に結成。
2007年にはSONY-ZOOM 1st demo songオーディションにてZOOM賞を受賞。
2008年夏よりライヴ活動を始める。 既存のジャンルや形態の概念にとらわれ
ず、音楽はもとより存在としてのイメージにおいて独自の世界を構築している。
音楽的には幼少の頃より英才教育を受けてきたClassic音楽をベースに、Rock,
R&B, Club Music, Hip Hop, Industrial,Electronica, Jazzなど多種多様なジャンル
の音楽を取り入れた独特な中毒性の強い世界観を創り出している。
➤Official web-site







✛ LIVE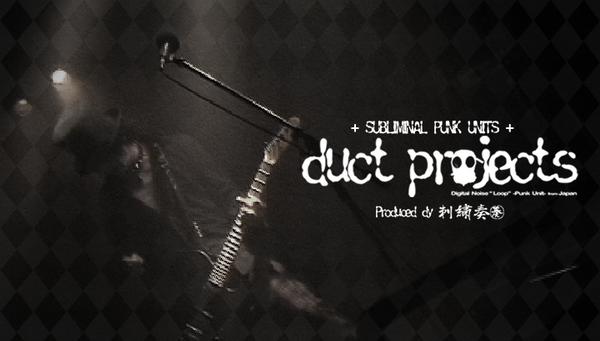 INDUSTRIAL/ROCK/GOTHIC/PUNK/NOISE ➣Official MYSPACE

duct projects / ダクト・プロジェクツ
80年代ニューウエーブ、ニューロマンティックに影響をうけながらも
ジャンルにとらわれず自分達独自の音、イメージを追及。かたちのあ
る音より強烈なインパクト性を重視している。
"ヤリタイコトヲ ヤリタイトキニ ヤリタイヨウニヤル" 
誰にどう思われても関係はない。ただ自分の信じた道をひたすら進む
だけ。精神はいつも"PUNK"である。

Subliminal ・Punk=duct projects

退屈でつまらない世の中の現実へ、
怒りと悲しみを込めて・・・
願う・・・

-MEMBER-
Tetsuya Abiko - Vo.Gr.Prog.
Dragon - Live Support Drums







❙ FETISH FERFORMANCE❙
ROPE SUSPENSION by Mistress MAYA & SAKI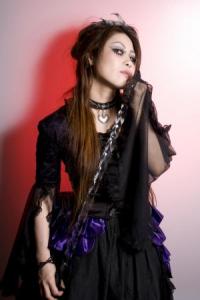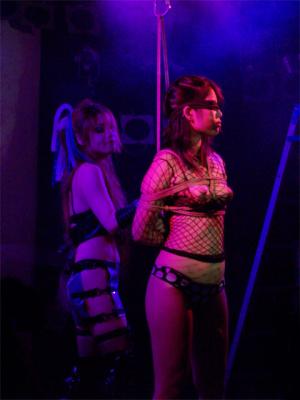 -SETLIST-▶
Corpus Delicti - "An Obsession"
Spanking Machine - "Wet Nightmare"
Sabotage - "Show Your Love"
Wavetraxx - "Das Boot 2003 (Schall & Rauch Schleichfahrt Remix)"
Unter Null - "Fucking Waste"
London After Midnight - "Kiss (Ra Mix)"
Graeme Revell - "Tomb Raider Main Titles/Lara Croft At Home"







- ResidentZ -




❚ VJ ❚ Kokekakiki


才能溢れるnuje banatawとHarunaによる視角表現ユニット コケカキイキイ
音とシンクロしたライヴなプレイを提供
➤Official web site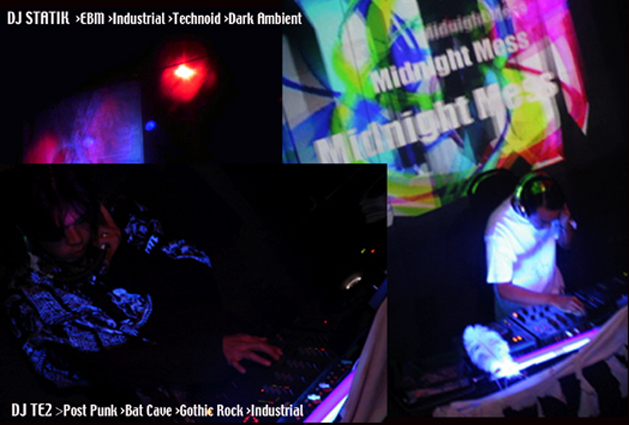 [PLAYLIST]DJ STATIK
Dogpop - "Himmel Flieg (1-Schuss-Mix)"
Der Feuerkreiner - "Unsere Zeit"
Exocet - "Narcoholica"
Syntech - "Blaster"
Le Moderniste - "Bliss"
Russelkafer - "Displacer Oxide"
--------------------------------------------------------
Wynardtage - "Crash Of A Star (Remixed By Ginger Snap5)"
Uberbyte - "Under The Cross"
Re:\Legion - "Electro:Schock"
Cryogen Second - "Clarity"
Asphyxia - "Obliterate My Fate"
--------------------------------------------------------
Suicide Commando - "Until We Die"
Chainreactor - "Psychokiller"
Manufactura - "Rape Upon Rape Upon Rape"
Andromeda 5 - "Noise Faktor 1.4"
Distatix - "Medication"
Contaminant - "Blue Eye Distortion"
Alien Vampires - "Evil Generation"
Sleetgrout - "Pay For My Time"


❙ Organize & DJ ❙ Mistress MAYA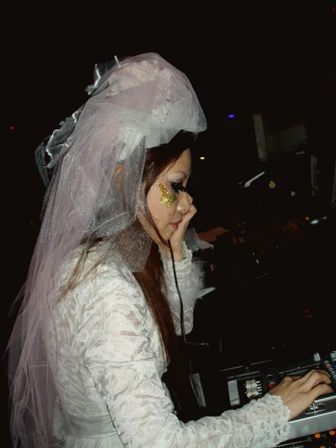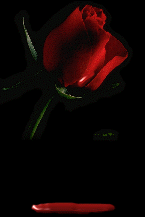 Just bring your body. your mind will follow,,,
▶DARK ELECTRO / TECHNOID / INDUSTRIAL ROCK / BREAKCORE / and more,,,
➣Photo by DJ SiSeN ➣衣裳協力 by



Dead or Alive - "You Spin Me Round (Like a Record)"
Covenant - "Ritual Noise"
Killing Joke - "White Out(Johan Remix)"


◆DOOR/FLOOR◆ †mess★dolls†
     ...The night of the damned children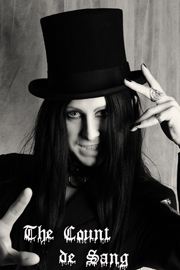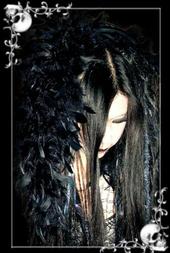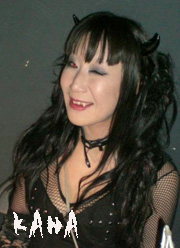 Count Photo by Kousuke

✯ DRESS CODE CHECK ✯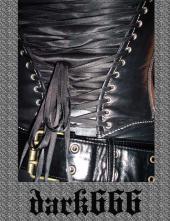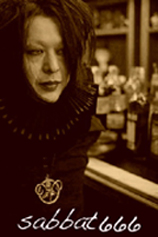 666兄弟&黒猫メィ

and more,,,




† mess★dolls † 腕章
▶刺繍 by 刺繍奏/PUNCHINGNISHIMURA ▶design by MAYA


✚ BOOTH ✚

❙ FETISH/GOTHIC Shop ❙ ❥Mistress MAYA御用達ショップ




*Import & Original PUNK,GOTHIC,FETISH,LOLITA clothing,Corset,Accesary,CD,Magazine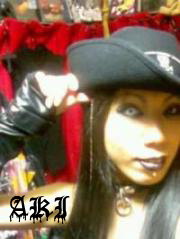 ▶MIXI COMMUNITY
▶BLOG

 ➤Midnight★Mess出演アーティスト掲載中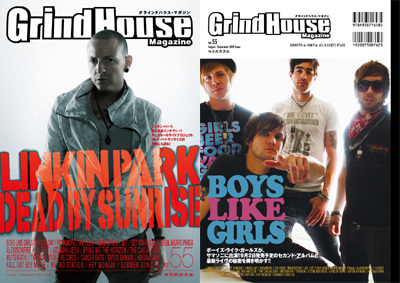 ロックジャーナリスト有島博志の音楽情報発信雑誌 隔月発売
ブースでご購入の方にはKOЯN,PRODIGY等, バンドステッカーの特典有り
HIRO ARISHIMA's most popular Industrial/Loud Magazine!!




▶blog
*コサージュ、オリジナルアクセサリー
まりMari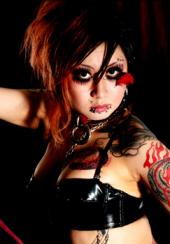 photo by




❙ PHOTO Booth ❙
■撮影PHOTO by 


✦SPECIAL SERVICE✦
特設のフォトブースにてロックフォトグラファーKousukeによる撮影サービス。
思い思いの装いでご来場下さい。お一人でも、カップルでも、お友達とでも♪
Professional photo will be taken by Rock PHOTOGRAPHER Kousuke for no charge.
Photo will be printed and given as gift!!
▶SAMPLE: JAPAN FETISH BALL 2008 撮影写真


http://www.tksociety.com/gallery/thumbnails.php?album=30










▶SUPPORTED by 

  ▶SPECIAL THANKS to EIJI MATSUDA 



▶THANKS to
    
■PHOTO■ Kousuke Natatsuka / Seiichirou Uchida /

YAWARA INAFUKU(+CLEAR+)

/ Holger Karas(Seventh Sin) / エレ児Elegy
               
                                                           [ RETURN TO TOP ]