- THANK YOU SO MUCH FOR VISITING OUR VAMPIRE MANSION -


WELCOME HOME. YOU ARE ONE OF US....
ヴァンパイアファミリーがお迎え致します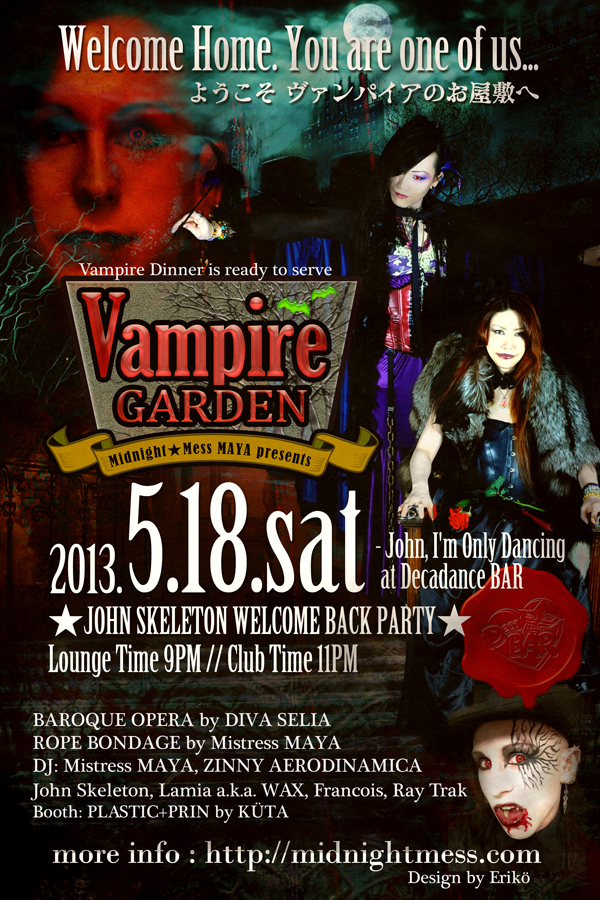 GOTHIC HORROR / BAROQUE OPERA / SM SHOW / VAMPIRE DINNER

     DIVA SELIA / Mistress MAYA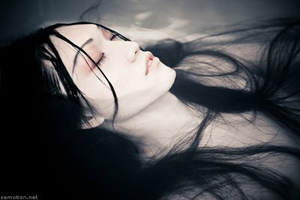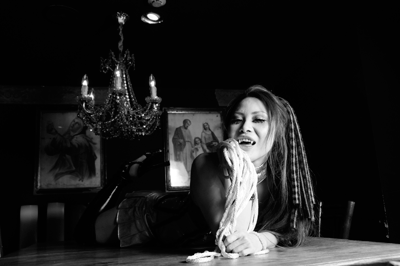 START 21:00 'till dawn... *DecaBAR OPEN at 18:00 as usual
VISITOR(初回) 2500yen / POINT CARD 2000yen / VIP 1500yen *w/1D
★VAMPIRE DINNER★ is ready to serve...


HOSTED BY Mistress MAYA, DIVA SELIA, ADRIEN
BARTENDARS IN VAMPIRE MANSION
Floor/Door: VAMPIRE FAMILY
Photographer: Fernando Ramos


★LOUNGE TIME★ 21:00〜23:00


VAMPIRE FILM
BAROQUE OPERA by DIVA SELIA
*around 22:30
LOUNGE MUSIC SELECTED BY Mistress MAYA & VAMPIRE DJs

★CLUB TIME★ 23:00 'till dawn...

DJ: ZINNY AERODINAMICA / JOHN SKELETON / Lamia a.k.a. Wax
Vampire DJs: Mistress MAYA / Francois / Ray Trak
and more...

+PERFORMANCES+
FETISH/ROPE BONDAGE SHOW by Mistress MAYA & HER LOLITA♥



DecadanceBAR has turned into VAMPIRE MANSION??
OUR FAMILY MEMBER JOHN SKELETON is coming back after long time sleep.
Enjoy Our Vampire Dinner and Flavored Shisha from 6PM and Vampire Movie and Baroque Opera by DIVA SELIA during Lounge Time.
Tables and some chairs will be removed after 11PM and enjoy the club time with Vampire DJs 'till dawn.
Erotic Lesbian Rope Bondage Show after the dark... so let us share some secret together...


デカダンスバーがヴァンパイアのお屋敷に?!
イヴニングタイムはヴァンパイア映画鑑賞に水煙草、歌姫セリアによるバロックオペラを★
今回は長い旅から帰還したJOHN SKELETONがDJとしてパーティーに参加。
深夜はご機嫌なヴァンパイアDJ達 2002年にMistress MAYAとMidnight★Messを立ち上げた妖艶なZINNY AERODINAMICAに加え、
前回初登場の若手DJ LAMIAのダークセットやMistress MAYAによる妖艶でエロチックなSMショーをお楽しみ下さい。
ヴァンパイアディナーは18時からご用意させて頂きます。
楽しみ方はあなた次第♥

思い思いの装いで御来場下さいませ。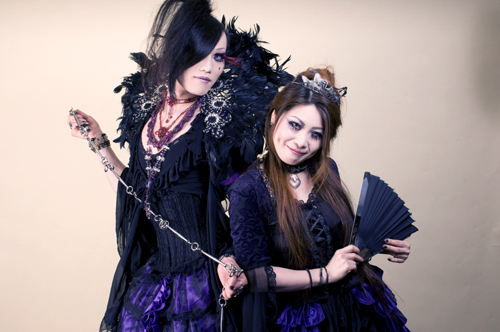 BAROQUE OPERA by DIVA SELIA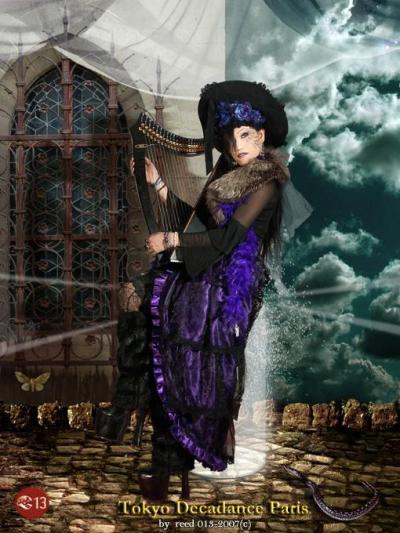 歌姫セリアによるバロックオペラ。国内では演奏される事のなかった曲を自ら聴き、書き下ろして歌う唯一無二なオペラ歌手。
妖艶な雰囲気と、独特な空気の中艶のある美声が響き渡る。
▶ご覧になりたい方はLounge Timeにお越し下さい
SELIA on MySpace



FETISH PERFORMANCE
ROPE BONDAGE by Mistress MAYA & HER LOLITA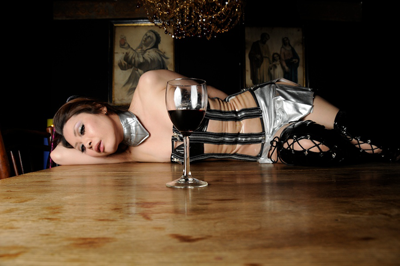 [18禁] 妖艶な魔女MISTRESS MAYAによる公開調教的パフォーマンス
妖しくハード♥にロリータや美少年を責め、縛りやらぽろりやら、、エロく激しい世界を展開。
2010年、世界最大規模のゴシックフェスティバル"Wave-Gotik-Treffen 2010"(独)のフェティッシュ・パーティーに
日本人のフェティッシュ・パフォーマーとしては初の出演。初出演にしてメインアクトを務め、高い評価を得る。
[R18] Japanese rope bondage show by Vampire Mistress MAYA. She loves to torture Lolita girls & Innocent boys.
so she comes out to hunt new victim for her sweet dream every night...
Mistress MAYA performed Japanese bondage show as main act at Fetish Party "OBSESSION BIZARR" of Wave-Gotik-Treffen 2010 in Leipzig, Germany.








WELCOME BACK JOHN!!

DJ JOHN SKELETON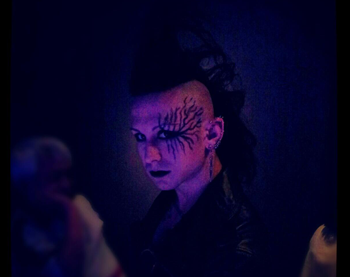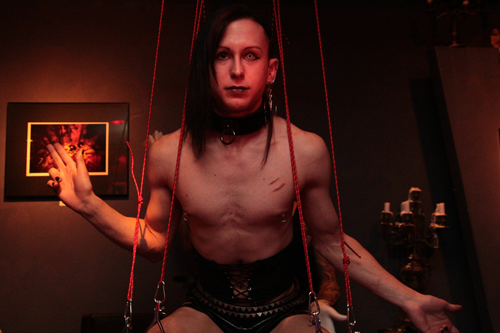 *Gothic / Horror Dubstep / Dark Elektro / and more...








span style="font-size:medium;">DJ ZINNY AERODINAMICA (club Walpurgis)