御来場ありがとうございました!!Thank you so much to everyone who came!!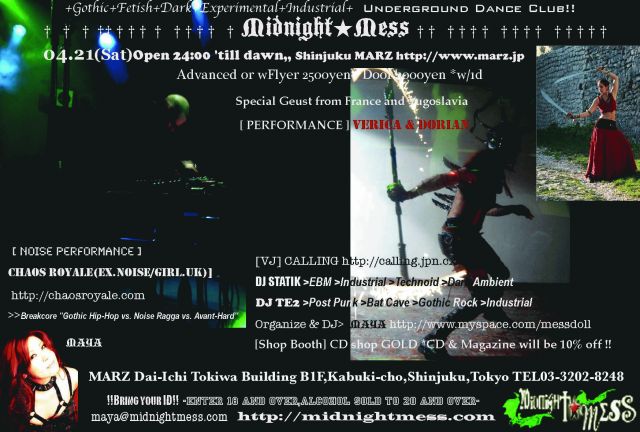 [ myspace ]

http://www.myspace.com/messdoll

【 MIXI 】

http://mixi.jp/view_community.pl?id=757808




【 PERFORMANCE 】SPECIAL GEUST from France and Yugoslavia!!
■Verica & Dorian

http://www.cie-vatra.com

http://www.myspace.com/davorinxvatra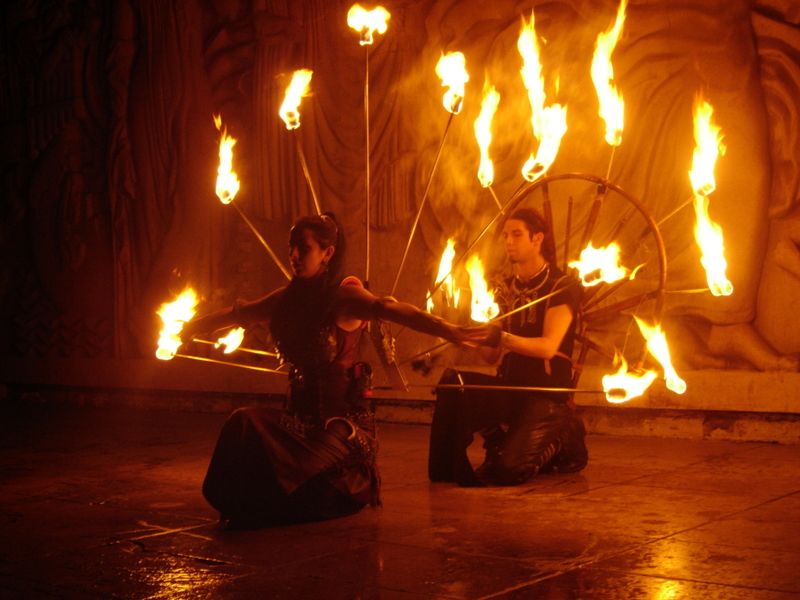 *Special Thanx to Adrien - TOKYO DECADENCE

●NOISE PERFORMANCE● CHAOS ROYALE(ex.NOISE/GIRL.UK)

http://chaosroyale.com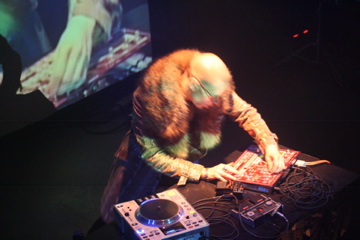 >>Breakcore ''Gothic Hip-Hop vs. Noise Ragga vs. Avant-Hard''

☆Special Thanx to ミラ狂美 - Mira Kurumi

http://www.mirakurumi.net

(Rope Bondage Artist)


【 VJ 】光臨/CALLING

http://calling.jpn.cx



【 resident DJ 】STATIK, TE2
【 Organize & DJ 】MISTRESS MAYA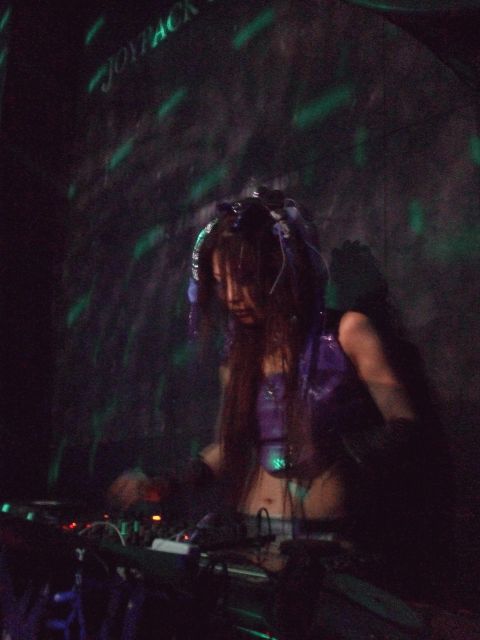 http://www.myspace.com/messdoll



◀mess★dolls▶ SATSUKI,KIYOHA,SAKI,SELIA

【 Shop Booth 】CD shop GOLD (西新宿)

http://www.cd-gold.co.jp



>>GENRE>>
Post Punk-Gothic-New wave-Dark wave-EBM-Industrial-Technoise-,,,

________________________________________________________________________________________________

PLAYLIST - DJ STATIK

Ebola - "Cut Off"
The Peoples Republic Of Europe - "Shake That Booty"
Chrome Division - "Body Crash"
Patenbrigade: Wolff - "Gefahrstoffe (Club Mix)"
Soman - "Twister"
Punto Omega - "El Ojo (Funker Vogt Remix)"
Hocico - "Ecos (Move Bastard Mix)"
Tactical Sekt - "Bring Me Violence"
Suicide Commando - "Torment Me (Final Punishment)"
Painbastard - "Sternentanz"
Cycloon - "Oppressive Measures"
Binaercode - "Go Blank"
Millimetric - "Cold Machine"
Lith - "In Vivo"
--------------------------------------------------------
Xebox - "Wahn Durch Technik"
Greyhound - "Identity Disturbance"
Monokrom - "Bizz As Usual"
W.A.S.T.E. - "Shut Up and Bleed (Manufactura Remix)"
Kopfer Kat - "Spike"
Sonar - "Tone Loc (Manufactura vs. Converter remix)"
Run Level Zero - "Hitting Ground"
Supreme Court - "Loving Kind of Cunt"
Derma-Tek - "Lost Cause (Grendel Remix)"
Pimentola - "Psychopompos"
Vuxnut - "My Sex Appeal (Kick The Pussy Mix)"
Dyspraxia - "Controlling Their Desires"
Acylum - "Rape"
Combichrist - "F**k That S**t"
Dulce Liquido - "Serial Killer"
Terrorfakt - "Welcome To Hell"
Eurocide - "Europe In Dust (Radio Edit)"
Amduscia - "Your Deep Shit"
Necro Facility - "Tuxedo (Artline 519 Remix)"
Noisex - "Torture In Veins"
Sulphuric Saliva - "Trap"
Mourmansk 150 - "Insert clip/Pull slide/Pull trigger"