2015.10.25
10/25†FLINT GLASS @SAKURADAI POOL
<

◀ SINCE 2002 ▶>

THANK YOU SO MUCH FOR ATTENDING!!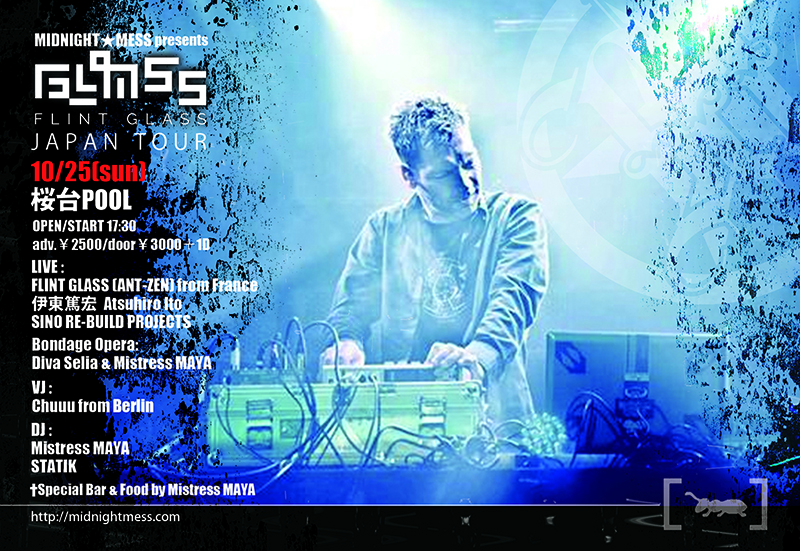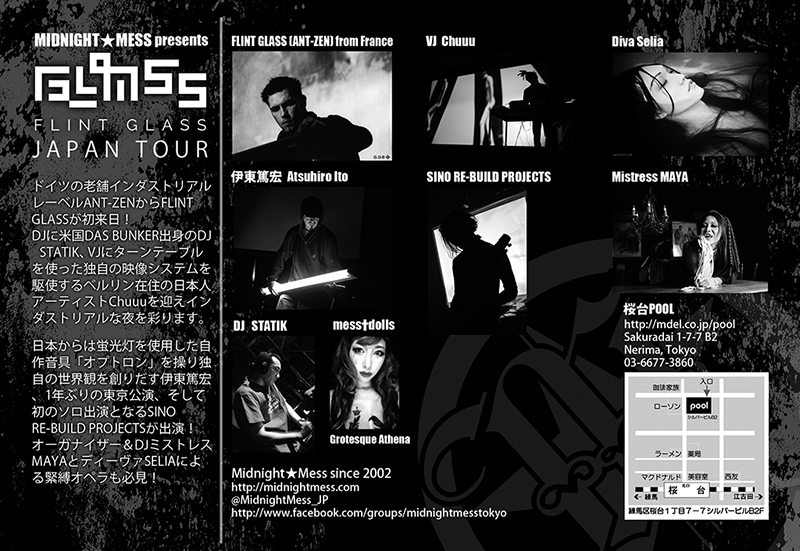 ▶桜台POOL(Sakuradai, Nerima)
Flyer Design: Seiichirou Uchida
▶前売り予約
参加表明もしくは御予約フォームに代表者のお名前、人数を明記の上10/24の24:00迄にお送り下さい。


http://form1.fc2.com/form/?id=702309


▶TO RESEVE YOUR TICKET: get on attending list or email to: midnightmess.tokyo@gmail.com
*Please provide us your name, number of your party and send email by 24:00 of Oct.24th.
EVENT PAGE on FACEBOOK




秘密基地のような地下室で繰り広げられる一夜限りの...
フランスから初来日のFLINT GLASSを迎えてのダークなインダストリアルナイト!地下室で行われる宴★ダークで不思議な夜をご一緒しませんか?
Let's share some wine and your secrets together at Dark Industrial Night★

Midnight★Messに出演したIszoloscope(Canada)やContageous Orgasm(Jp)と同じドイツの老舗インダストリアルレーベルANT-ZEN所属アーティスト「フリントグラス」によるリズミックノイズをメインとした打ち込みライブ。

レジデントDJ二人によるドイツ発祥のテクノイズ/重低音ノイズ、アグロテック/EBMでがっつり踊れる時間をお贈りします。米国のパイオニア的インダストリアルクラブDAS BUNKER(US)出身、来日後にテクノイズを広めたSTATIKのレアで最新のDJセットをお見逃しなく。最初のダークアンビエントセットから一時間半近くはDJタイムになります☆
Mistress MAYA特設のゴシックバーやフードブースもお楽しみに!






フランスより初来日!!フリントグラス
LIVE: FLINT GLASS(ANT-ZEN ) from PARIS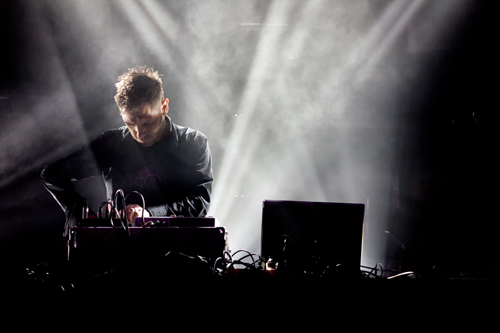 *Industrial / Rhythmic Noise / Dark Electronica / Experimental / IDM

Labels:: Brume Records(FR)主宰, ANT-ZEN (DE), Tympanik Audio (USA), Funkwelten (DE): MYSPACE,
Angle records(CA), Divine comedy (FR)

▶OFFICIAL WEB-SITE ▶OFFICAIL FACEBOOK ▶DISCOGRAPHY

1999年 Gwenn Trémorinによりパリにて活動開始。
フランスのエクスペリメンタル系エレクトロニカレーベル「Brume records」創立者でもある。
インダストリアル、リズミックノイズ、トライバル、ダークエレクトロニカ、IDM、ダークアンビエント等、それぞれ異なるをジャンルを融合させ独自のジャンルを創り出している。
ヨーロッパ各国、ロシア、北アメリカ、南アメリカへのツアーの他、ドイツでは数々の音楽フェス:世界最大規模のゴシックフェスティバル「Wave-Gothik-Treffen」、ノイズ系インダストリアルフェスティバル「Maschinenfest」、 ゴシック/EBM/インダストリアルフェスティバル「Summer Darkness」「Wroclaw Industrial festival」にも出演。

▶︎Biography
Flint Glass is a Paris-based dark electronica project that has been described by critics as representing some of the most innovative sounds-styling towards electronica, industrial and dark ambient genres. Flint Glass is a one man project of Gwenn Trémorin, formed in 1999 and is also founding member of experimental electronica label Brume records in France. Inspired by fantastic and dystopian literature, Flint Glass' music tends to crawl under your skin, shapes the most fantastic images, and keeps challenging by means of an intelligent use of samples, rhythms and beats. With Flint Glass you find influences from the ambient of the 90's as well as various forms of IDM, tribal and industrial rhythmic noise and experimental. Flint Glass has played numerous live gigs all around Europe, Russia, North and south America and at most famous dark music festivals like WaveGothicTreffen, Maschinenfest, Summer Darkness or Wroclaw Industrial festival. He recently created a truly spine chilling and atmospheric soundtrack for the fantastic movie "Fragment1890", a H.P. Lovecraft inspired movie by German director Sacsha Renninger.
▶Bandcamp ▶Soundcloud ▶lastfm.fr ▶Discogs ▶Reverbnation ▶FACEBOOK

▶YOUTUBE


http://youtu.be/PiH8Wz5Oh0g




http://youtu.be/f8KbRQJrGxo




http://youtu.be/rdbWzF8aqD0




http://youtu.be/RNU2oODOUlI



▶JAPAN TOUR
◆10/24 Tokyo:1 ATSUHIRO ITO Presents, TRONITO @西麻布BULLET'S(Nishi-Azabu)
◆10/25 Tokyo:2 Midnight★Mess 17:30 @Sakuradai POOL
◆10/26 OSAKA//SUNAO INAMI & more
◆10/28 NAGOYA//CONTAGEOUS OGASM & more


伊東篤宏/Atsuhiro Ito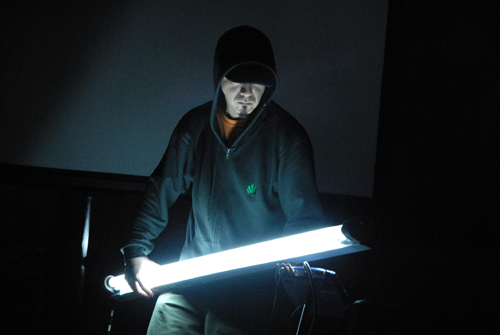 1965年生。1980年代後半より美術作家として活動を始める。98年から展覧会などでサウンド・パフォーマンスを開始し、インスタレーション作品と同素材である蛍光灯を使用した自作音具「オプトロン」を制作。数々の改良を加えつつ現代美術側からの音あるいは音楽へのアプローチを続けている。数々の個展やソロ・パフォーマンスのほかに、進揚一郎(ドラムス)との爆音エクストリーム・オプチカル・ノイズコア・バンド「Optrum」など、いくつかのユニットでも活動中。2000年より2005年まで東京、代々木でギャラリー / フリー・スペース「Off Site」の音(音楽)と映像関連のイヴェントなどを担当。2006年6月、Optrum でアルバム『recorded』をUNKNOWNMIX(HEADZ)よりリリース。

Atsuhiro Ito was born in 1965. He launched his career as a visual artist in the late '80s, and in '98 began presenting sound performances at art exhibitions and so on. Ito made use of fluorescent lighting (which is also an element of his art installations) in the creation of an original musical device called the optron. He continues to refine the instrument while approaching sound and music from a contemporary-art-based perspective. In addition to his solo exhibition and performance projects, Ito is active in a number of musical units. One of these is Optrum, the explosively loud "extreme optical noise core band" consisting of Ito and drummer Yoichiro Shin. Between 2000 and 2005 Ito presented various sound (music)/visual image-related events at Off Site, the now-defunct gallery/free space in Yoyogi, Tokyo. The Optrum album Recorded was released in June 2006 on the label Unknownmix (Headz).


SINO RE-BUILD PROJECT
*Industrial / EBM / Harsh / Distortion Guitar

2000年 SINOのソロプロジェクトSINO RE-BUILD PROJECTSとして東京を中心にライブ活動を開始。同時に自主レーベルre-build recordsを立ち上げる。打ち込みを駆使したインダストリアル、エレクトロサウンドに歪んだギターリフが絡むインスト楽曲を中心に製作。海外、国内レーベルのコンピレーションCDへの楽曲参加や、アメリカ、オーストラリア、フランス、日本のアーティストのリミックス等も行う。2011年に宮城県へ移住。製作活動の拠点を宮城に移す。以降、仙台では自身がMIXした映像を使ったソロパフォーマンスでのライブ活動を開始。今回はそのソロパフォーマンスでのライブを東京で初披露する。2015年9月にアルバムRUINED SILENCEをリリース。
【Soundcloud】にて音源試聴可能。
OFFICIAL WEB-SITE
▶OFFICIAL FACEBOOK





Bondage Opera by DIVA SELIA & Mistress MAYA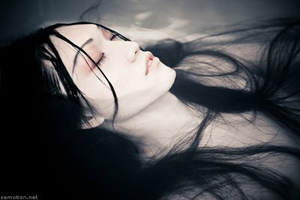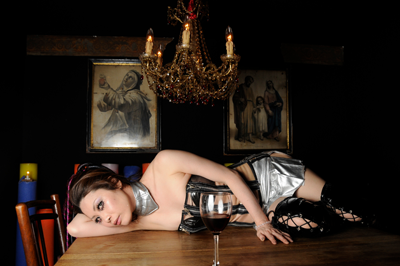 Baroque Opera by Diva Selia        Rope Bondage by Mistress MAYA







VJ chuuu from Berlin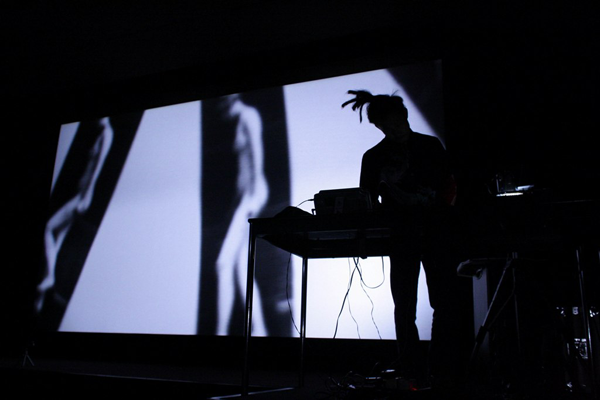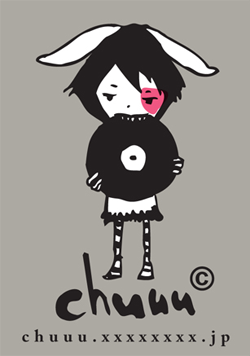 京都出身。2003年よりベルリン在住の画家。
VJとしてもDJ用ターンテーブルを使った映像システムを開発。手描き、コラージュの円盤を回転させライブビデオパフォーマンスを行う。その他ドローイングからノイズを発生させるパフォーマンスやイベントのオーガナイズも手がけている。
主な出演はベルリンを中心にフュージョンフェスティバルやフランクフルト、マンハイム、マドリッド、プラハ、オーストリア等のクラブやフェスティバル。
ベルリン最後の廃墟「タヘレス」の閉鎖後はアトリエを自宅に移し、創作活動中。

Chuuu was born in 1975 in Kyoto,
is a Berlin based painter and visual/noise artist and event organizer who resides in Berlin since 2003.
He created his own Visual system by using dj's turn table and video camera to make live video performance with his hand paintings and drawings.

Chuuu has appeared at Fusion festival and been performing at many festivals and clubs in Europe.

Art working at Tacheles from 2009 'till it closed down in 2012.


Art Exhibition 個展「chuuu Ausstellung 2015 Tokyo」
ベルリン在住ペインターchuuu日本初個展
少女とテクスチャーを使った抽象的背景を組み合わせた絵画
2015年10月6~15日 HONEYED GIFT. 池尻大橋


https://www.facebook.com/events/1657703931138499/


DJ STATIK (Midnight★Mess/[OVERFUSED?])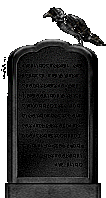 Playing: RHYTHMIC NOIZE + HARSH + AGGROTECH + EBM + POWER ELECTRONICS +
POWER NOIZE + INDUSTRIAL + DARK ELECTRO + DARK AMBIENT

STATIK has DJed as DJ Kedamono at the most famous Industrial club DAS BUNKER(US) before he moved to Japan.
STATIK started DJing at Industrial club and became a pioneer in Japan, spreading the new sound so called Noise Industrial coming from Germany and US.
He bludgeons audiences over the head with aggressive yet danceable tunes by manipulating Aggrotech and Rhythmic Noise.

Midnight★Mess/[OVERFUSED?]のレジデントDJ。US Industrial clubのパイオニアであり伝説的存在のDAS BUNKER(ダス・ブンカー)においてDJ Kedamonoとして活動後来日。 インダストリアルクラブのレジデントを務め、国内でテクノイズを広めるパイオニアに。NOISE INDUSTRIAL/AGGROTECH等をダークに操り、アグレッシブかつダンサブルチューンでフロアを沸かす。

2010年にはMidnight★Mess/[OVERFUSED?]主宰のDJ Mistress MAYAと共にドイツの世界最大規模ノイズインダストリアルフェスティバルMASCHINENFESTと、世界NO.1インダストリアルクラブCLUB MATRIXのEODに日本人初のゲスト出演を果たす。

海外のインダストリアルアーティストとの交流も深く、CONVERTER、Iszoloscope、mimetic、MONO NO AWARE等人気テクノイズアーティストの初来日を手掛けたORDINATEUR主催「SEQUENCE OR DIE」のレジデントでもあった。


DJ Mistress MAYA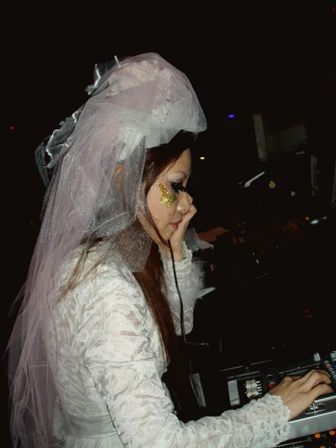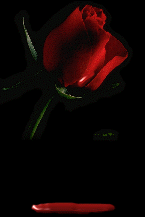 JUST BRING YOUR BODY. YOUR MIND WILL FOLLOW...
*German Industrial / Industrial / Harsh / Rhythmic Noise / Power Noise / Power Electronics
EBM / Electro / Dark Ambient / and more...

Midnight★Mess主宰
東京屈指のゴシックインダストリアルイベントを主宰。またDJとして海外のテクノイズフェス「MASCHINEFEST」(独)やゴシックフェスWGT(独)、世界最大ゴシックインダストリアルクラブ「CLUB MATRIX」(独)への出演など、活動の場は日本だけにとどまらない。今までMetropolis Records、ANT-ZENやHANDS所属の数々の海外アーティストの来日公演を実現させてきている。
インダストリアルのパイオニアSKINNY PUPPYの創立メンバーでありDownloadのcEvin Key、
シンセポップ・EBM界の大御所COVENANT(Sweden)やダークエレクトロのパイオニアDAS ICH(独)の初来日も手がけている。
DEPECHE MODEオフィシャルリリースパーティーに出演等プレイジャンルの幅も広く、
Gothic DJとしては都内にてTim Burton監督プライベートパーティーにてDJ。
キーワードは激しく哀しくダーク、そして妖しくフロアを操る。
妖しく美しいDJスタイルは必見。






❙ SPECIAL GOTHIC BAR & FOOD ❙

ABSINTH & WINE BAR
■禁断の薬草酒†アブサン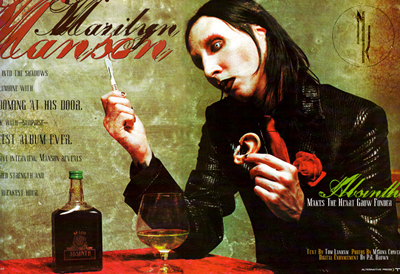 ・MANSINTHE by Marilyn Manson 66.6% Swiss
・KÜBLER ABSINTHE 53% Swiss
・VERSINTHE ABSINTHE 45% France
・
・Red Wine ¥800
and more...

★カクテル等¥500 - Drinks are from 500yen!
GIN / VODKA / Shouchu焼酎 / Whisky

★BOTTLED:Champagne from ¥5000
ワインやシャンパンのボトルもご用意してます♡

★SAKE:Selected Sake 美味しいひやおろしや純米酒など

★FOOD
SMOKED CHICKEN†燻製チキン,他
ODEN†おでん 一個 ¥100

::POOL★DRINK MENU::
Non-Alcoholic Drinks ¥300
Canned Chuhai / Canned Belgium Beer ¥300
Corona, スミノフ ¥400



◆DOOR/FLOOR◆ VAMPIRE FAMILY
...The night of the damned children
【 ATHENA 】
ダークバーレスク等ステージパフォーマー、緊縛パフォーマーのアテナがお迎え致します☆
Designer of Gothic/Lolita ACCESSARY [GROTESQUE ATHENA] and Dancer/Performer for rope bondage show/Daek Burlesqe
ステージ衣裳やアクセサリーブランド「GROTESQUE ATHENA」のデザイナー。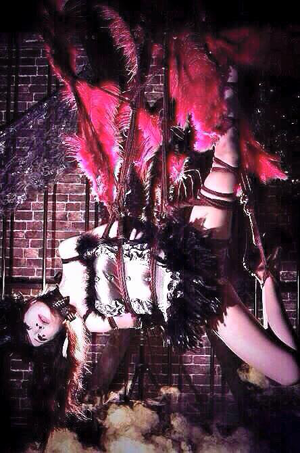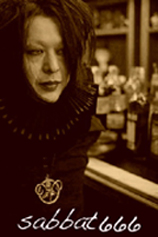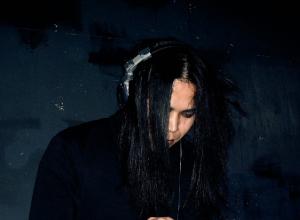 and more...




┳┻┳┻┳┻┳┻┳┻┳┻┳┻┳┻┳┻┳┻┳┻┳┻┳┻┳┻┳┻┳┳┻┳┻┳┻┳┻┳┻┳┻┳┻┳┻┳┻┳┻┳┻┳┻┳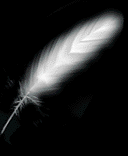 SAKURADAI POOL
東京都練馬区桜台1-7-7 シルバービルB1
Sakuradai1-7-7 Silver B!F, Nerima-ku, Tokyo



皆様の御来場心よりお待ちしております♥ We are looking forward to seeing you...







▶SPECIAL THANKS TO KAIRAI BUNCH (SAKURADAI POOL)
Back to