ご来場ありがとうございました - Thank you so much to everyone who attended.


➤every 4th Saturday @Shinjuku MARZ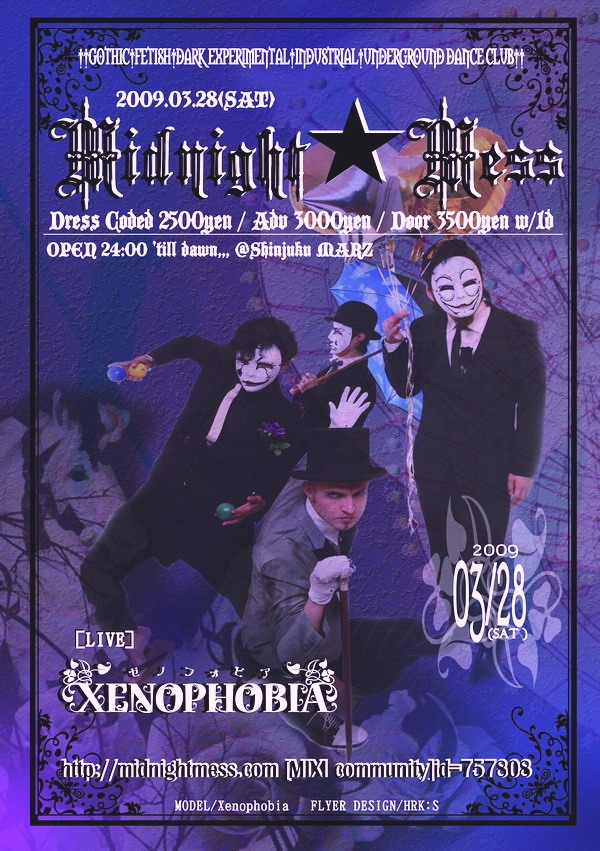 ✦CAST✦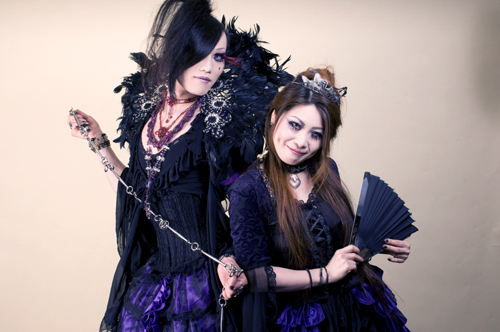 Photo by Kousuke
♰わが歌姫セリア君とオーガナイザーマヤのコンビ♰
〜Our DIVA"SELIA" and Orgnizer MAYA' s unit
➤SELIA: MYSPACE
▶SELIA: YOUTUBE ➤mixi community







✝ LIVE ✝ *Midnight★Mess初出演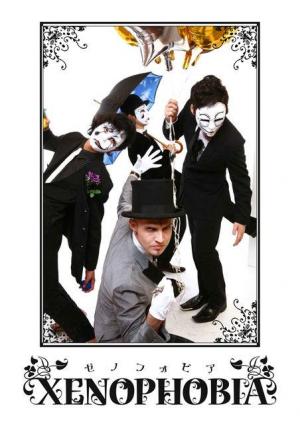 Positive Punk / New Wave / Gothic
▶MYSPACE

「悲劇的なコメディーバンド」というコンセプトで'99年Benjamin Perryを中心に米サンフランシスコで結成。
渡日後、幾度かのメンバー交代を経て現在に至る。
ゴシックなニューウェイブサウンドとジプシー風の旋律が絡み合い、独自の世界観をステージで熱く表現する。
また、ライブでは役者やダンサー、パフォーマー、ゲストミュージシャンなどが参加し、一本ごとに特別な演出が繰り広げられ、
企画イベントでは内装も含め一日を通してのトータルコンセプトアートとして披露される。
現メンバーによる自主制作音源「The Gypsy Circus」を2008年11月24日に発売。

Come one, yes come all and enter the warped fantasy world of Xenophobia. Known as a 4-piece new wave rock band in some circles (and an inbred Romanian clown brigade in others), the quartet seems to always have new surprises in store for their audience. Constantly evolving themes are interwoven into each stage performance, making every show a unique work of art in itself. Just what shape will their traveling sideshow take in their first Midnight Mess appearance? You'll have to come behold the spectacle to find out.......

MEMBER
Benjamin Perry - Vocals & Fantasies
Tommy Duke - Guitars & Moustaches
Yo-1 - Geta & Bass
Akihikov Gotovsky - Support Drums & Panda







✝ FETISH FERFORMANCE ✝
ROPE SUSPENSION by Midnight Mistress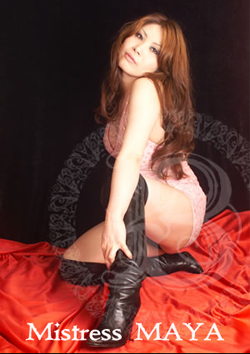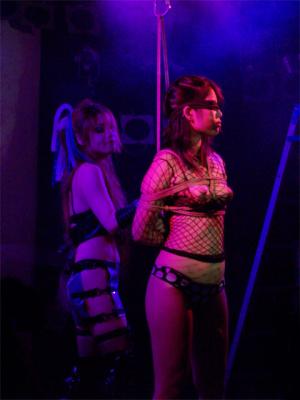 ▶Photo by STUDIO SARA

♰ SETLIST ♱
Otep - "Eet The Children"
Spanking Machine - "Now Lie In It"
Otep - "Blood Pigs"
Unter Null - "Fucking Waste"
Pzychobitch - "Nightmare"
London After Midnight - "Kiss(Ra mix)"






- ResidentZ -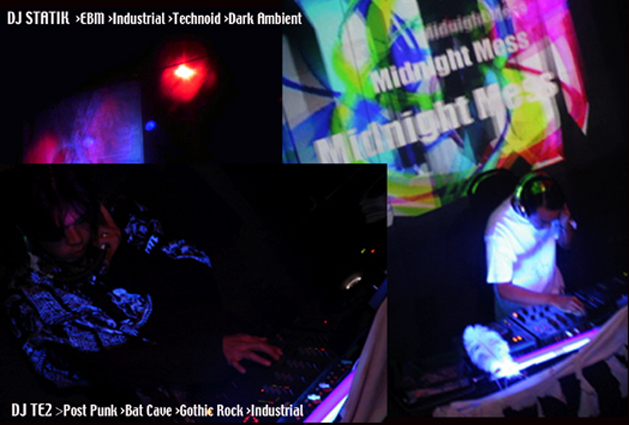 ➣Photo by Complete Wonder
➤Playlist DJ STATIK
Black Light Orchestra - "Out!"
Barzel - "Lone Wolves Of Zion"
Flutwacht - "Nebula"
Sonar - "Plexi Cat"
--------------------------------------------------------
Converter - "Dream Converter"
Manufactura - "Killing You [Unbound Mix]"
Phosgore - "Fleisch"
X-RX - "Digital Terror"
Noisuf-X - "Krach Bumm"
Suicide Commando - "Face Of Death (Spetsnaz Remix)"
--------------------------------------------------------
FGFC820 - "America (Remix by Mesmer's Eyes)"
Alien Vampires - "Far From Humans"
Schallfaktor - "Suicide Confession"
Distatix - "Medication"
Komor Kommando - "Triggerfinger"
Greyhound - "Transphobia"
Contaminant - "Unter Strom"
Sedarka - "D. Zoo Lat (Sulphuric Saliva rmx)"
W.A.S.T.E. - "Eternal"



❚VJ❚ Kokekakiki


nuje banatawとharunaによる視角表現ユニット コケカキイキイ
➤Official web site


✝ Organize & DJ ✝ Mistress MAYA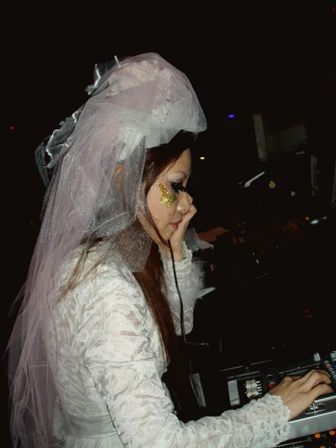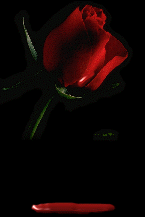 ➤Playlist
Bauhaus - "Bela Lugosi's Dead"
Chaos Royale - "Witness"
The Horrorist - "Can You Hear The Sound?"
Nitzer Ebb - "Let Your Body Learn (Terence Fixmer Remix 2006)"

http://www.nitzer-ebb.de/


Authentik - "Vampires"
Psyclon Nine - "Divine Infekt (Tactical Sekt Un-Version)"
Leæther Strip - ''No Rest for The Wicked(No Vox Version)''

http://www.myspace.com/leaetherstrip


Nine Inch Nails - ''Wish(remixed by j.g.thirlwell)''
Rammstein - "Engel"

http://www.rammstein.com


And One - "Love & Fingers"
Suspiria - "Dancefloor Tragedy (Version)"
Death In June - "The Calling"


◆DOOR/FLOOR◆ †mess★dolls†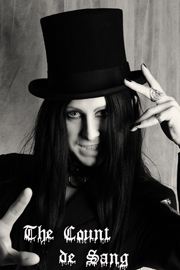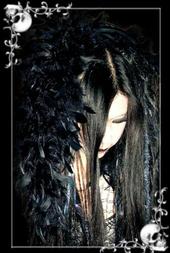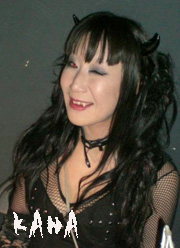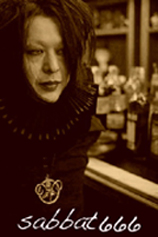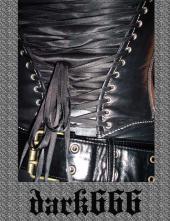 ✯ DRESS CODE CHECK ✯ JIM / 雪路YUKIRO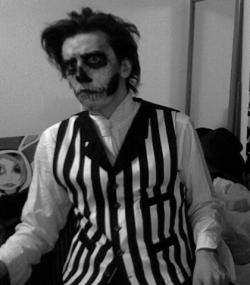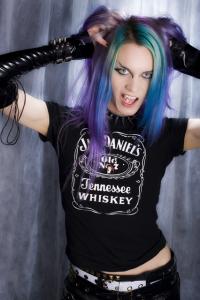 Photo by Kousuke

and more,,,,



         
† mess★dolls † 腕章
✦刺繍 by 刺繍奏/PUNCHIING NISHIMURA  ✦design by MAYA



✟ BOOTH ✟

✙ FETISH/GOTHIC/PUNK Shop ✙ Mistress MAYA御用達ショップ❤ 


(Harajuku)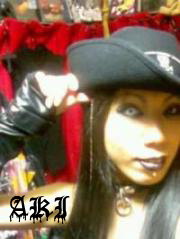 ▶MIXI COMMUNITY ▶BLOG
➤Import & Original PUNK,GOTHIC,FETISH,LOLITA clothing,Corset,Accesary



 ➤Vol.53(3月末日発売)がMidnight★Messにて先行販売されます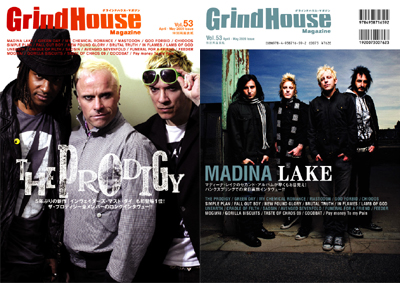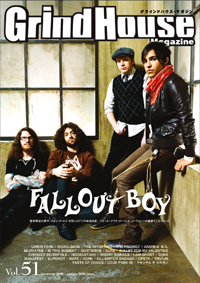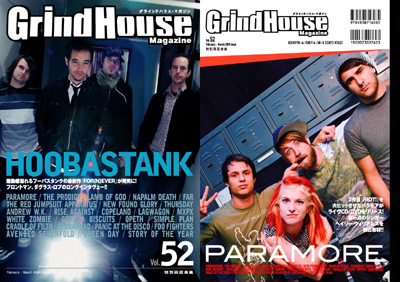 ▶blog
孤人創作屋「るなぱあく(Luna Park)」*コサージュ、オリジナルアクセサリー
まりMari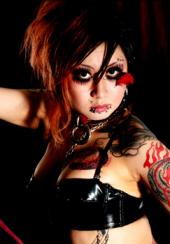 photo by

†夜ノ帳† TOBARI


✦Gothic Taste Accesary ➤Design by HRK:S


✙ PHOTO Booth ✙ 撮影PHOTO by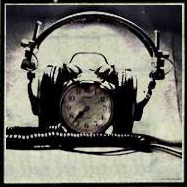 ➤official web site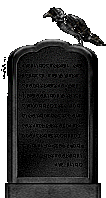 ▶SUPPORTED by 

  ▶SPECIAL THANKS to EIJI MATSUDA



MIRA KURUMI(MK STUDIO)

▶THANKS to
■PHOTO 



Graphic Designer: HRK:S
HIRO ARISHIMA/GrindHouse             
     
                                  
                                                           [ RETURN TO TOP ]